And I'm not talking about those "wimpy" limited guarantees either. I'm talking about GUARANTEES with some pizzazz and bite to them.
The primary purpose of a GUARANTEE is to take away the risk of doing business with your dry cleaner. Your goal is to pave the way for hesitant prospective customers to easily start doing business with you. You want to take away any and all apprehension of giving you that first garment to clean.
So how do you take all the risk and make it "riskless" for your future customer to do business with you?
Take a look at my "Broken Button Guarantee."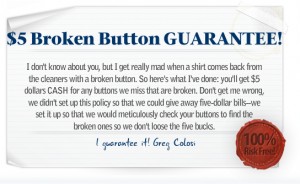 (I've got a little online tool that you can use to create your very own guarantees. Hold on. I'll tell you about it in a minute).
You might be thinking, "I don't want to give away $5 bills every day." If that's your thinking, IT'S ALL WRONG!
Wouldn't you want to know that your shirts are going out with cracked and broken buttons? Wouldn't you want to know immediately when this starts to happen? I do and I know you do too.
The "Broken Button Guarantee" accomplishes two things: First and foremost, you'll know if a trend of broken buttons is happening in your shop. Secondly, you are telling your future customers that you watch the buttons and that they're NOT going to get broken buttons from you.
All of your customers have experienced broken buttons from their past dry cleaner and they don't want it to happen again. You're highlighting it and letting them know that you know about cracked and broken buttons and that you've done something about it.
This gives your customers and future customers the confidence to do business with you and keep doing business with you. Can you see where I'm coming from?
I did this 19 years ago when I started in the business. I took from what my experiences were with dry cleaners and created certain ways of handling things in my new dry cleaners.
I do not own a plant. I only have a route. I wanted to know if and when broken buttons were showing up on my customers shirts and this was a sure-fire way to find out.
At one point I did get a flurry of $5 broken button requests. I think I paid out about $25, but I did find out that there was a problem at the plant with one of the shirt bucks. We fixed it and since then I've paid out maybe two or three more times. This was a very small price to pay to find out that we were breaking buttons.
This is another one of my GUARANTEES: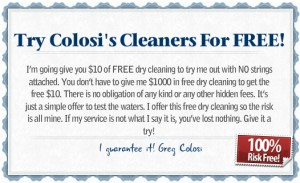 If you've been following me for some time, you know that I offer $10 in FREE Dry Cleaning to try out my route service. I've tested all kinds of offers—the percentage-off ones, the buy-one-get-one FREE offers, the tell-me-how-much-you-spend-in-a-month-and-I'll-give-you-that-to-you-in-FREE-dry-cleaning offer, the stuff-this-bag-for-X-dollars (Groupon type) offer and none of them worked as good as the $10 FREE Dry Cleaning Offer. I started at $50 in FREE Dry Cleaning and $10 worked best.
BUT, when you give something away, you've got to explain your rationale or they think its TOO GOOD TO BE TRUE!
So I explain: "I'm going give you $10 of FREE dry cleaning to try me out with NO strings attached. You don't have to give me $1000 in free dry cleaning to get the free $10. There is no obligation of any kind or any other hidden fees. It's just a simple offer to test the waters. I offer this free dry cleaning so the risk is all mine. If my service is not what I say it is, you've lost nothing. Give it a try!" And then I personally GUARANTEE it!
As you can see, there is no *asterisk. If you have an *asterisk, that leads to some fine print, and fine print ALWAYS limits the guarantee. You might as well forget your guarantee, because it's worth nothing with an *asterisk!
You might be asking, "How do I limit myself from those people (the mooches) who hardly do any dry cleaning and just want the freebie?" We have safeguards against that on our order form and when they call in. A few slip through, but not many.
I'm giving you permission to use my GUARANTEES word-for-word if you like. You can go here and create your own just like I did. It takes only 5 minutes and you don't need any graphics tech knowledge.
Here's the site: website
I hope you enjoyed this, but better yet, I hope you start putting these valuable "More Than Money Back" GUARANTEES into action in your dry cleaners NOW!
Call (888) 661-1992 to set up a FREE 30-minute consult with me about your routes and/or your counter business or anything you'd like to talk about in your dry cleaning business. Or go to: website to find out more.