More than 90 people turned out February 8th for a free laundry day hosted by Michael Finkelstein at his Laundry Land flagship store in Greenville, North Carolina. The event was a part of the LaundryCares Foundation's outreach to help those in need in the community, and promote literacy.
"We have an opportunity and an obligation to give back to the neighborhoods that support our businesses," said Brian Wallace, president of the Coin Laundry Association (CLA). LaundryCares is a 501(c)(3) organization founded in 2006 by the CLA to provide laundry services and education to those in need.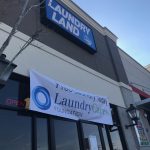 The Huebsch® washer-extractors and tumble dryers at Laundry Land didn't get much of a rest during the day, as roughly 405 loads of laundry were washed and dried, while children enjoyed the free books that were handed out, and the store owner couldn't have been happier.
"We're targeting everyone in the community, but especially those who cannot afford to do their laundry," said Finkelstein, who has been a supporter of the LaundryCares free laundry days since they began and also serves as a foundation volunteer board member.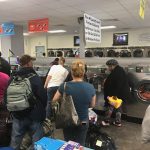 Finkelstein also planned to host another free laundry day at his Norfolk, Virginia in the future.
"I think we have an excellent opportunity, through LaundryCares and the free laundry events, to turn our laundries into the conduit connecting those in need to outreach services in the community beyond just wash and dry cycles," Finkelstein said.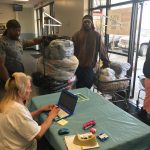 Since they began in 2015, there have been a half dozen free laundry days hosted by LaundryCares in laundromats throughout the U.S.
If you would like to host a free laundry day or get involved with LaundryCares, contact Wallace at (800) 570-5629 or via e-mail at: laundrycares@coinlaundry.org.