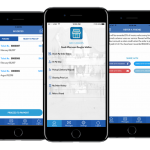 Liberty Computer Systems announced iDryclean Pro for iPhone and Android, combining the power of Liberty's Touch Control Drycleaning software with the mobile needs of your customers. According to Liberty Computer's President, Rick Mugno, "With the explosion of smartphones and the mobile demands of the digital consumer, it became clear that the landscape of drycleaning is changing and the timing for Liberty to introduce this unique App and technology is perfect".
iDryclean Pro enables your customers to connect to your store anytime providing them with an array of functionality and services. With iDryclean Pro your customers can Track their orders (with full ticket recall), Track their order history; Receive Push Notifications of specials and promotions; Make payments and Schedule a Pickup or Delivery (integrates with Touch Control software). Customers can let you know they're coming to pick up orders with the unique 'On My Way' feature. If that were not enough, now your customer can refer their Facebook friends, Twitter followers and LinkedIn connections to your business and be rewarded for it. The App can be branded with your name and logo.
Liberty Computer Systems is a leading software development company servicing the Drycleaning and Laundry industry for over 30 years.