The Drycleaning & Laundry Institute's Board of Directors gathered in Las Vegas October 1 after nearly two years of virtual meetings. The Board inaugurated Bobby Patel as DLI 2021-2022 President, though his term began in July. DLI's volunteer Board represents all regions of the United States. Board Members must own or operate an active cleaning business or represent an allied trades business.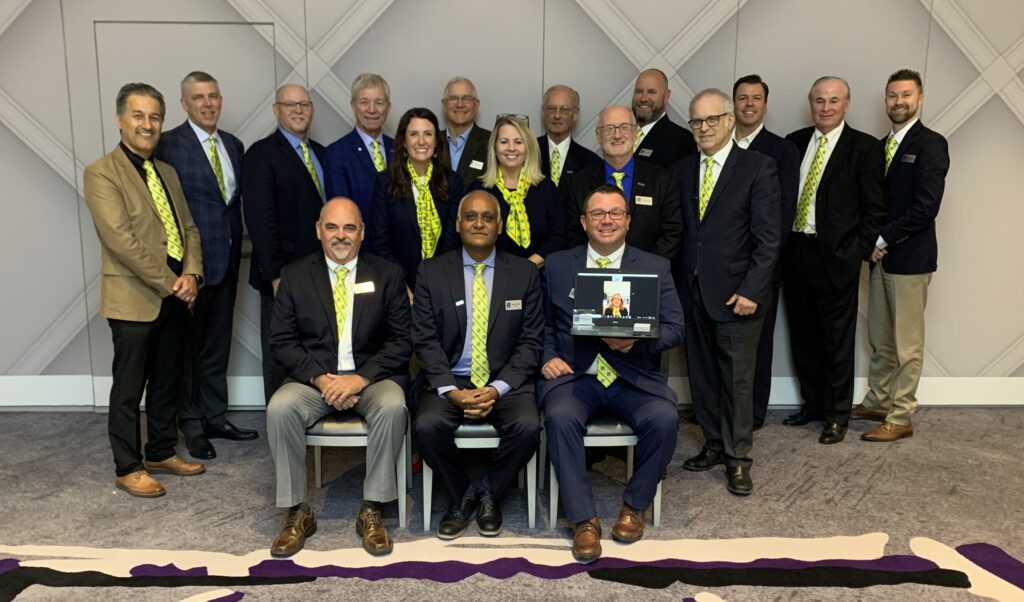 Seated (left to right): Chair Jess Culpepper, CGCP®, Culpepper Cleaners, Inc. in San Antonio, Texas; President Bobby Patel, Kona Cleaners, Orange, California; President-Elect Jeff Schwegmann II, CGCP®; Treasurer andDistrict One Director Kathy Benzinger, Benzinger's Dry Cleaning, Hamburg, New York (attending remotely).

Middle Row (l-r): Sassan Rahimzadeh, ARYA Cleaners, Chula Vista, California; Dru Carlisle, Allied Trades District Committee Member, Enviroforensics, Indianapolis, Indiana; Rhonda Eysel, District Three Committee Member, Master Kleen Dry Cleaners, Columbus, Georgia; Ray Kroner, District Four Director, Kroner's Dry Cleaners, Cincinnati, Ohio; Mark Pollack, CPD®, District Two Director, Signature Cleaners, Doylestown, Pennsylvania.

Back Row (l-r): Toran Brown, District Eight Director, Rytina Fine Cleaners & Launderers, Sacramento, California; Norman Way, District Two Committee Member, Puritan Cleaners, Richmond, Virginia; Bill Odorizzi, Allied Trades Director, Sankosha, Elk Grove Village, Illinois; John Mertes, District Four Committee Member, Mishawaka, Indiana; Ed Longanecker, District Five Director, Iris City Cleaners, Mount Pleasant, Iowa; Allan Cripe, District Six Committee Member, Valet Cleaners & Coin Laundry, Temple, Texas; Don Holecek, District Three Director, Crown Cleaners, Knoxville, Tennessee; Retiring District Six Committee Member Richard Thum, Five Star Cleaners, San Antonio, Texas; Kyle Nesbit, District Six Director, TIDE Cleaners, Spring, Texas.

Not Pictured: Larry Fish, District One Committee Member, Kingston Cleaners, Wakefield, Rhode Island; Joe Blaha, GreenEarth Cleaning, Kansas City, Missouri; Hilary Taylor, Continental Cleaners, Salt Lake City, Utah.