The Round Table of Laundry & Dry Cleaners gathered in Omaha, Nebraska last year for the annual "fly-in" event to critique Max I. Walker Dry Cleaners and Launderers and to learn more about Max I. Walker's uniform rental services. Each year the Round Table gathers in one of the member's cities to visit their operations and to plan for the group's annual meeting.
Rob Walker, president of Max I. Walker, hosted the fly-in. The agenda included tours of five different Max I. Walker plants and uniform rental services facilities, a lecture from Ernie Gross on the State of Economics and planning for the Round Table's annual meeting.
The Round Table's 79th annual meeting will take place in March 2018 in the Dominican Republic. The meeting serves as a time to discuss industry trends, advancements and to exchange ideas.
This year's fly-in attendees included A Cleaner World, Admiral Cleaners, Anton's Cleaners, Avon Cleaners, Classic Cleaners, Classic Cleaners, Dependable Cleaners, Model Cleaners, Pilgrim Cleaners, Porter's Fine Dry Cleaners, Pratt Abbott, Puritan, Tripp's Fine Cleaners, Red Hanger Cleaners and Zengler Cleaners.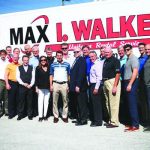 For additional information contact Bridget Hanson at bhanson@walkersinc.net.