Current Position: Dave Menz, 43, is the president and owner of Queen City Laundry in Cincinnati, Ohio.
The Company: After starting Queen City Laundry in the Spring of 2009, Menz has steadily grown the business to a total of four laundromats. A fifth location is currently underway.
In 2016, Menz expanded by launching HappyNest Laundry Pickup & Delivery. Three delivery trucks service the greater Cincinnati region, with a fourth vehicle on its way. "It has exploded as this industry has rapidly expanded and now out earns any of our retail stores," said Menz.
Childhood Aspirations: From a very young age, Menz possessed the desire to be a business owner. Although his very traditional parents conditioned him to pursue the pragmatic route of getting an education and finding a steady job, Menz believes it was his destiny to be an entrepreneur from the day he was born. He remembers being asked in kindergarten what he wanted to be when he grew up and his response was consistently the same. "I want to own my own business," recalled Menz. "When I became an adult, I always knew I wanted to own a business; I just didn't know what."
Inherently Headstrong: "I have always been a very stubborn and opinionated little boy, growing up in a poor family in Flint, Michigan," remembered Menz. "Nearly all of my family were blue-collar, with most of them working in the GM factories in Flint, but I knew I wanted to be a business owner."
Menz admitted to being "a pretty bad student in school that never really worked too hard unless I saw a direct value to the things I was learning." In spite of his academic deficiencies, Menz held firm to his belief that he could accomplish anything he wanted to do. "Much to the adults' dismay, I just didn't see the point in school," Menz lamented. "The risk and freedom associated with owning a business are all I've really needed to channel that stubbornness into something pretty great."
Favorite Childhood Memory: A family vacation to Mackinac Island in Michigan stands out for Menz to this day. "We were too poor to really ever take vacations, but my parents rented a pop-up camper for us to stay in at a local campground on Lake Huron," Menz affectionately recalled. "This is my fondest memory because we were all still young and healthy kids. A few years later, my little sister, Lisa, got brain cancer, and she passed away at 14 years old, so our family was never really the same after that."
The 411: Menz attended community college for a year and realized academia was not the place for him. He entered corporate America with an entry-level position at Cincinnati Bell (the local telephone company where he had a 17-year illustrious career). He started as a directory assistance operator and got promoted several times during his time with Cincinnati Bell. After stints in marketing and sales, Menz's last position with the company was a lineman (outside technician). "I worked in a lot of different parts of the company and gained a lot of different skills that helped me along the way with business," Menz said of his tenure with the phone company.
Seizing the Moment: Twelve years into his occupation at Cincinnati Bell, Menz continued his foray into entrepreneurship and commenced his life long dream of business ownership. He was perusing the offerings on Craig's List one day and discovered a local laundromat for sale. "I called the owner, and it happened to be just a mile and a half from my house," said Menz.
Menz purchased the laundromat but realized that he wasn't financially stable enough to walk away from the security and safety net of his established position with the phone company. While getting Queen City Laundry set and profitable, Menz often worked a combined 90 to 100 hours a week at the laundromat and Cincinnati Bell. "There was a lot of sweat equity involved in the beginning," Menz said. "It wasn't a smooth road; that's for sure!"
Exit Strategy: While splitting his focus between the two different career paths, Menz faithfully and systematically re-invested profits into Queen City Laundry, building it into a viable and robust business vehicle that could financially support his family. He rapidly expanded his regional footprint and continued to add more laundromat locations to the Queen City Laundry family. Five years after the serendipitous encounter with the Craig's List advertisement, Menz sensed the time was right to leave the phone company and fully devote his focus to what he believes was in his destiny.
Growing Pains: "There have been many learning opportunities and some adversity along the way," said Menz. "Whenever you grow a team as quickly as we have, there will be a large learning curve as far as hiring, training, managing, and yes, terminating of employees."
Menz said that owning a business has been a rollercoaster, but he wouldn't have it any other way. "I am an ambitious person by nature, and I love to push and challenge myself out of my comfort zone."
Defining Success: There was a time when Menz would put weight and stock into money and the freedom that comes along with that luxury. But now that he's achieved those things, Menz has found new motivations. "I'm now driven by helping others and changing my family tree for generations to come," beamed Menz. "If I can raise healthy and happy children who are well adjusted and care for my parents, in-laws, and grandparents as they age, then my life will be a success."
Forecasting: The future of the laundromat industry is something that excites Menz. He said that he has studied its history and is fascinated that laundromats and the industry have not gone through too much change from inception until only a few years ago. "Technology has finally caught up to the laundromat industry, and over the last five years, it's like a whole new world out there," he said. "The sky is the limit for any passionate business owners that have the knowledge and ambition to go get it."
Another significant shift that Menz sees is the "impressive and booming" size, modernization, and sophistication of laundromats. "Technology has made it very easy for owners with the proper business acumen to scale into multi-store ownership very rapidly," said Menz. "The stereotypical, no-frills laundromat with machines started by quarters are quickly becoming a thing of the past."
According to Menz, the single biggest thing to hit the laundromat industry is pickup and delivery. "Our society has shifted the way that we value and think about our time over the last 5-10 years, and we will pay for 'to our door' service on just about everything," stated Menz. "No one is better positioned to meet the booming demand for laundry pickup and delivery for residential and small business than the local laundromat owner; it's just a matter of who will go and do it!"
Advice: When it comes to entrepreneurship and business ownership, Menz advocates for a delicate balance of ambition and patience. "It takes wisdom to know that some things are not worth sacrificing no matter what."
He also firmly believes that "it takes such an insane internal drive for knowledge and information, that you get up each day motivated by what you can learn that will make you better today than you were yesterday."
Personal: A devout Christian who is very active in his church, Menz places a high value on service to others and giving back to the community.
When he has time to relax, Menz loves all things football, and his primary rooting interests favor the Michigan Wolverines.
What he cherishes most is spending time with his three children. Tannah, 21 (daughter) works at Queen City Laundry. Madden, 12, and Rayden, 9 (sons) are in middle and elementary school.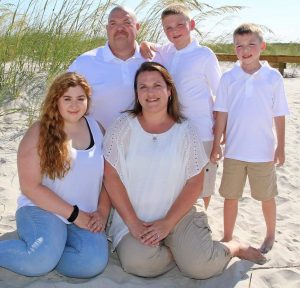 His wife Carla, a semi-retired school teacher who works in the business with Menz is a crucial component to the success of Queen City Laundry. "She has been an amazing partner and has always encouraged and believed in me, even when she thought I was crazy."