Current Position: Heath Bolin, 49, is the owner of Sparkle Cleaners Inc in Tucson, Arizona.
The Business: Serving the Tucson area over a span of six decades with twelve locations, three delivery routes and one central plant, Sparkle Cleaners has developed a relatively large footprint in Pima County.
Sparkle Cleaners is a full-service garment care establishment that offers same day service six days a week, locker service at several of its locations and expert tailoring and repairs through their sewing and alteration division known as Mendel's Wife the Tailor.
Bolin stated that Sparkle Cleaners made a commitment to technology and equipment throughout the organization. As a result, the company has made generous investments to ensure that Sparkle Cleaners is always on the cutting edge for its vast clientele.
"We have around 125 employees with over 30 of them employed longer than me," said Bolin. "Our employees are incredibly mindful of their customers' needs, and we all have the same goal…make 'em smile."
In the Beginning: "I was born and raised in Lake Charles, Louisiana and I am the youngest of four," Bolin said. "My parents divorced when I was young, and my life as a kid was not sheltered or easy."
Bolin said he played every sport when it was in season, and he fondly recalls his two older brothers allowing him to tag along and play games with them. Bolin's admiration for his elder siblings was so high that if they permitted him to play baseball, basketball, or football with them and their older friends, he considered it a great day. "They taught me how to compete, sometimes a little too well and we would go at it pretty hard," Bolin reminisced. "But regardless of how badly I may have gotten beat, I was still out there with them, and that's all I wanted to do."
College Daze: While studying Criminal Justice at McNeese State University in Lake Charles, Bolin married Kristi. He was one semester away from finishing the course work for his major, and Kristi had just completed her pre-pharmacy studies. Kristi wanted to go to pharmacy school, and the closest one was in Houston, so the couple departed the Pelican State for the Lone Star State.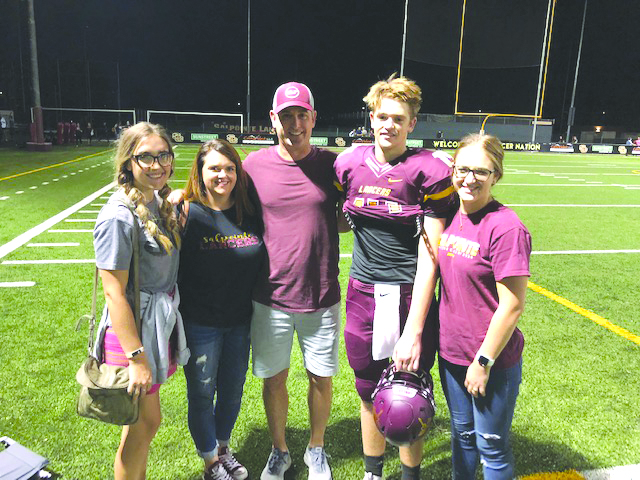 Bolin planned to find a job, finish the one semester he had left and get his degree at the University of Houston. "My dream was to work for the ATF or the FBI," he said. "But on my birthday on February 28, whatever year it was when Waco happened, a good family friend died in Waco; and I was like 'well, I don't think I want to do that anymore.'"
Craig's Cleaners: With dreams of a career in law enforcement in the rearview mirror, Bolin got his start in the dry cleaning business when Bob and Harry Craig hired him as a CSR at Craig's Cleaners in Houston, Texas.
Although he had never set foot into a dry cleaner until he moved to Houston, Bolin learned every facet of the business and soaked in as much as he could while working for the Craigs. "Bob and Harry both treated me like family and taught me so many valuable lessons that I still use every day," said Bolin. "They were patient with me and invested in me while teaching me everything I needed to know about the dry cleaning business, and more importantly, customer service."
Munro's Cleaners: "I then had the opportunity to move back home, and after a disastrous career move with a dry cleaning company I will not mention, Bill Munro hired me to help him run his dry cleaning business in Beaumont, Texas."
Bolin credits Munro for teaching him how to be a true entrepreneur and "not just a dry cleaner."
"He was open and willing to teach me the critical numbers that made a business profitable," Bolin said of Munro. "His guidance and friendship over the years have helped me understand how to run a business."
Dangling the Carrot: "At both of these incredible companies, I learned how incentives played a key role in how they maintained excellence," he said of Craig's and Munro's. "I have created my entire employee incentive structure based on the critical numbers for success they used."
Every employee at Sparkle Cleaners has an incentive plan. "I was able to blend what I learned from them to fit my company and help us maintain constant standards and goals that keep us getting better."
Y2K: In the year 2000, Bolin was offered to run Sparkle Cleaners and promised some minority ownership over time. After eight months in Tucson, he got the opportunity to purchase the entire company. "So, with no money in the bank and two young daughters, I took the chance and have never looked back," he said incredulously.
"Mr. Shawn Kim who had a great run as the operator for many years came in as a silent partner with me and allowed us both to take advantage of some great real estate investments to go along with the cleaning business," Bolin said.
Sid Tuchman: While working for Bill Munro, Bolin was able to be a part of Sid Tuchman's group, and he is still in it to this date. "Sid Tuchman made me want to be a better boss, friend and father; he was an inspiration to me and became the greatest mentor I have ever known," Bolin said of the late, great and legendary industry icon. "He advised me on so many business ideas and always seemed to have the right answer; more importantly I was able to get to know him as a person and that inspiration keeps me going every day."
The proudest moment of Bolin's career occurred during Tuchman's last visit with his group to Tucson. During dinner, the two recalled how worried Tuchman was for Bolin buying Sparkle Cleaners years earlier.
"He did not know if I would be able to pull it off with such a large debt service and no cash reserves," remembered Bolin. "He was genuinely worried about me at the time but left the conversation with this: 'Heath, if anyone can pull it off, you can.'"
As the two were having dinner that night, years later, Tuchman looked across the table and told Bolin, "Heath, I told you that if anyone could do it, you could…and look, you did it!"
"He was like a father to me in many ways and at that moment I knew he was proud of me," beamed Bolin.
An Attitude of Gratitude: "My wife supported me as we moved from all of our family and friends and my wonderful job with Bill Munro to the unknown desert of Arizona," said a grateful Bolin. "She supported my dream of being my own boss."
In addition to the big names previously mentioned above (Craig, Munro, Tuchman), Bolin is careful to single out Bill Lucas, Mike Nesbit and Peter Bergman among many others who took him under their wing at some point in his life and helped him understand what is truly important at work and home. "I am forever thankful to all of these people."
Crystal Ball: A consolidation of the industry and more large successful regional operators are on the horizon, according to Bolin. He said that every market is losing small operators every year and that it will continue as piece counts shrink and labor costs dramatically increase. He believes that lower sales volume stores that were profitable in the past will turn into a drain on profits if they have not already. "The only stores left will be the higher volume locations that can maximize labor and overall dollars produced per square foot," he said.
Bolin emphasized that if only the strong survive, then we will only have robust and well-run cleaning businesses, which is better for everyone. "I do not think the pieces will ever fully come back, but I can see strong companies continuing to be profitable and more diversified businesses for years to come."
Although he has seen highs and lows over the last 18 years at Sparkle Cleaners, Bolin remains encouraged and optimistic. "I am happy to say we are having a record year and I am excited about the future," proclaimed Bolin. "I think we are coming out of the valley and we should be looking at opportunities while the industry continues to shrink."
No to Yes Men: Complete and total honesty is something that Bolin admires in others and continually strives for in his business dealings. "If you want to hear that things are great then you can always find someone to tell you that or kid yourself in the mirror and tell yourself how great you are," he said. "Looking in the same mirror and acknowledging things are not great or seeking someone's opinion that you value and asking them what they really see is a tough pill to swallow sometimes, but necessary for personal and professional growth."
Sage Advice: "Know your key numbers for success," said Bolin. "Success may be different for people, but whatever you define as success, know those key metrics, and set your goals and standards off of those key metrics."
"If you can measure it you can improve it," he said. "I am constantly amazed at how many people in our industry have no idea what their key numbers are for profitability; we are in business first and foremost to make a profit."
Bigger Piece of Pie: At Sparkle Cleaners, Bolin is excited about some new projects to expand services to their existing customers. "The best thing we have going for us is our market share and brand," Bolin said. "The logical thing for me to do is find out where my existing customers are spending dollars away from me and figure out a plan for offering those somewhat similar services and leverage the trust and relationship we have with them to choose us in these new areas."
Defining Success: "Success for me at this point in my life is very simple; I want to be measured as a friend to those I care about and as a father in the eyes of my children," said Bolin.
Personal: "My wife Kristi has started working in our office, and her guidance has been very valuable to our company," said Bolin.
Kristi and Heath have been married for 27 years, live in Tucson and have three children (daughters Gabby and Madeline, and son Jackson). Gabby is a graduate of Louisiana State University and will be getting married next month. Madeline did her undergraduate studies at West Virginia University where she swam competitively and is currently in grad school at the University of Texas at Austin. Jackson, a high school senior, is their last child at home, and he will be off to college a year from now.
"My children have been such a blessing in my life and are so much smarter and well balanced than I ever was," said a proud Bolin. "You always want your kids to have a better life than you did, and my kids are well on their way."