Imagine being able to read the minds of your customers and know exactly what they want.
Now you can, thanks to a new study—The Cleaner's Supply Dry Cleaning Consumer Pulse Report.
"Millennials are different than Baby Boomers and your best customers are different than your less-frequent customers," said Jeff Schapiro, President of Cleaner's Supply, the company that commissioned the report. "Each group thinks and acts differently—and this study shows how you can grow your business by understanding these differences."
The survey results were shared in a 30-minute webinar titled "Understanding What Your Customers Are Thinking Before, During & After COVID-19," which has already been viewed more than 1,800 times on the Cleaner's Supply YouTube channel. Here are some of the key findings from the research.
With COVID-19, you need to show your customers how you're keeping them safe
The dry cleaning industry was significantly impacted by COVID-19. So how do you get your customers back?
According to the report, most of your best customers (83 percent) said it's extremely important for them to feel safe and have confidence in your sanitation practices.
"It's not enough to just sanitize and take safety measures behind the scenes," said Schapiro. "You have to make sure your customers see the safety measures for themselves so they know that you really care about their health."
Customers should be able to see that your employees and drivers are wearing masks and are using hand sanitizer or wearing gloves. Give customers the option for contactless drop-off and pick-up or find ways to minimize contact. Make sure your customers can see firsthand that you're wiping down and sanitizing your counters, credit card machines and door handles.
Work from home may not be a long-term trend
Will people keep working from home once the pandemic is over—and if so, what does that mean for dry cleaners long term?
It depends who you ask. For example, the Cleaner's Supply report found that one-third of dry cleaning customers thought their employer would be more willing to let them work at home, even after COVID-19.
But when human resource professionals were asked in a survey from the Society for Human Resource Management, the vast majority don't expect any changes in letting employees work from home.
Employers recognize that there are serious challenges to working from home, including concerns about security, technology and effectively managing remote employees. In fact, a study from Mattress Firm found that most employees admitted to taking a nap during work hours while working from home. It's too soon to tell for sure, but that's certainly encouraging news for dry cleaners.
Your location isn't as important as you think for your best customers
Yes, you have to be in the same general area as your customers, but it's actually your less-frequent customers who care the most about your location.
"We found that fewer than half of your best customers would choose a dry cleaner because of their location," noted Schapiro.
Think about it—if you're going out to eat and you don't care about the quality of the food, you're more likely to choose whatever restaurant is closest. But if you really want a great meal, you don't mind driving a bit further to have that five-star experience.
Turnaround time matters—a lot
Your best customers have high expectations for fast service. In fact, nearly 6 out of 10 of them expect their clothes to be ready in one day or less.
While men and women had fairly similar expectations for turnaround time, there was a clear difference in younger customers versus older customers.
"Compared to Baby Boomers, twice as many Gen Z and Millennial customers expected their order in one day or less," said Schapiro. That's not surprising given that younger customers already expect to have their groceries delivered within a few hours or get picked up for a ride within minutes.
The good news is, given the size of the Gen Z and Millennial market (and the fact that they'll be your customers for many years), you can build a loyal, long-term customer base by focusing on fast service and promoting it to these groups. That said, quick turnaround may be a challenge these days, notes Schapiro, with some stores running limited production hours.
Your best customers aren't as concerned about price
Who usually complains about your prices? Chances are, it's your low-frequency customers, the ones you only see once a month (or even less often).
Your best customers might care about price but it's not as important to them as other factors. In fact, the study found that only about one-third of your best customers feel that price is important in choosing a dry cleaner.
Pick-up and delivery can set you apart—especially if you promote it
Here's an interesting fact from the research: most dry cleaning customers (70 percent) either think that dry cleaners charge extra for pick-up and delivery or they're not sure if they charge more for it. So if you do offer free delivery, you should definitely be using it to get more business. Put a "free delivery" sign in your window, add it on your invoices and include it in your advertising.
The report also found that men are twice as likely as women to choose a dry cleaner based on pick-up and delivery.
People have different reasons for choosing wash-and-fold
Saving time is by far the most popular benefit of wash-and-fold with 65 percent of customers saying that's why they would choose it, according to the report. "The average person spends about 100 hours each year doing their laundry," said Schapiro. "Sending your laundry out is like getting an extra two and a half weeks of vacation time each year."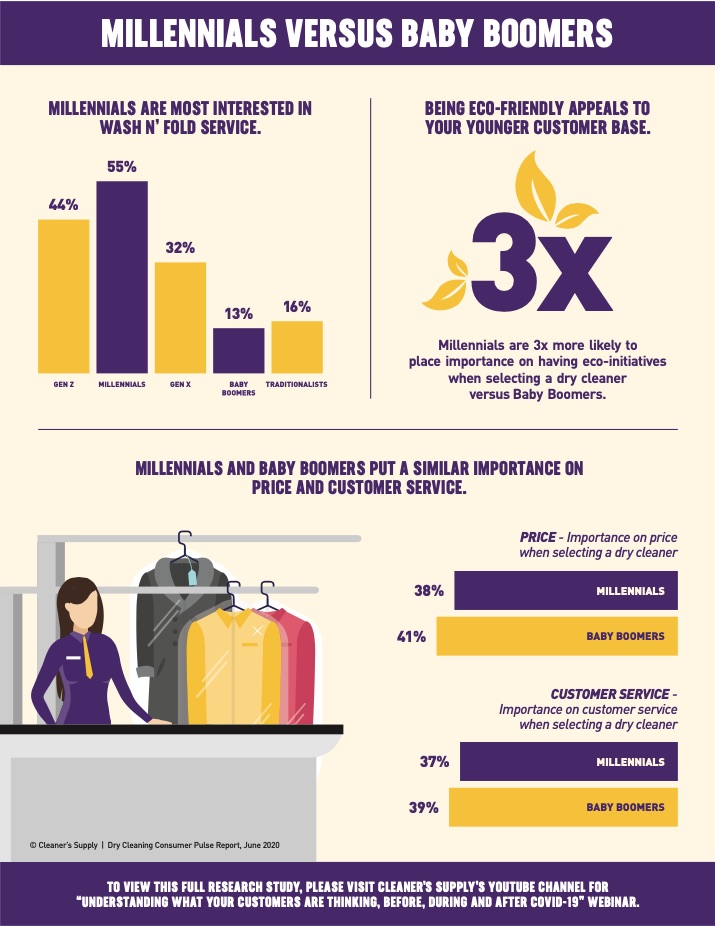 But nearly half of the people surveyed also said they thought the wash-and-fold service would give them better results. Remember that people come to you because you offer a professional service. Let your customers know that choosing wash-and-fold means their clothes will be clean, folded neatly and ready to wear, every time.
In terms of demographics, the survey found that men are three times more likely than women to be interested in wash-and-fold and that Millennials are the best age group to target.
One last note about wash-and-fold: don't forget about people outside of your customer base who may not know about all the benefits of this service. Use Google Ads and other platforms to help attract these new customers.
Eco-friendly cleaning is important for younger customers—and your best customers
It's no surprise that younger customers care about the environment. According to the report, Millennials are three times more likely than Baby Boomers to feel that eco-friendly initiatives from their dry cleaner are important.
But the survey also found that these practices are important to roughly 20 percent of your best customers. That isn't a huge number, but it's still significant and will likely grow over time. (Remember that eco-friendly services are also more important to customers in certain regions.)
What's the takeaway? If you want to keep attracting better (and younger) customers, consider environmentally friendly practices and supplies, from your cleaning methods to your packaging materials. And—as always—let your customers know any time you're going above and beyond.
The best way to reach your best customers? Email.
If you don't have an email program in place, it's time to get one. Nearly two-thirds of your best customers said that email was their favorite way to get updates and promotions.
People spend hours each day on email with more than half of Americans checking their email within an hour of waking up. Email works, especially with your best customers.
Beyond email, the report found that Facebook, websites / apps and texting were all preferred by approximately half of your best customers—so make sure you're paying attention to those channels too.
Watch the full webinar for more insights
"I know what it's like to own a dry cleaners," said Schapiro, who started in the business by owning a dry cleaner himself. "That's why Cleaner's Supply commissioned the report and produced the webinar. If we can help dry cleaners understand the different types of dry cleaning consumers better, hopefully this will lead to more opportunities for dry cleaners to grow."
The full webinar, now available on YouTube, contains even more research highlights. The presentation was sponsored by SCCA (Southern California Cleaners Association), CCA (California Cleaners Association) and DLI (Drycleaning & Laundry Institute International) and is based on a survey conducted in partnership with Drive Research.
"It's a lot of data, but we tried to have fun with it," said Schapiro, who encouraged viewers to watch through the end of the webinar for a special guest appearance from Marla Gibbs, who played Florence on The Jeffersons TV show.