Dear Stain Wizard, My customer has an expensive two-piece pant suit, you can see the jacket appears to be a lot dingier than the pants. How can I get the jacket white again.?
Ricky
Excello Cleaners
Houston,Texas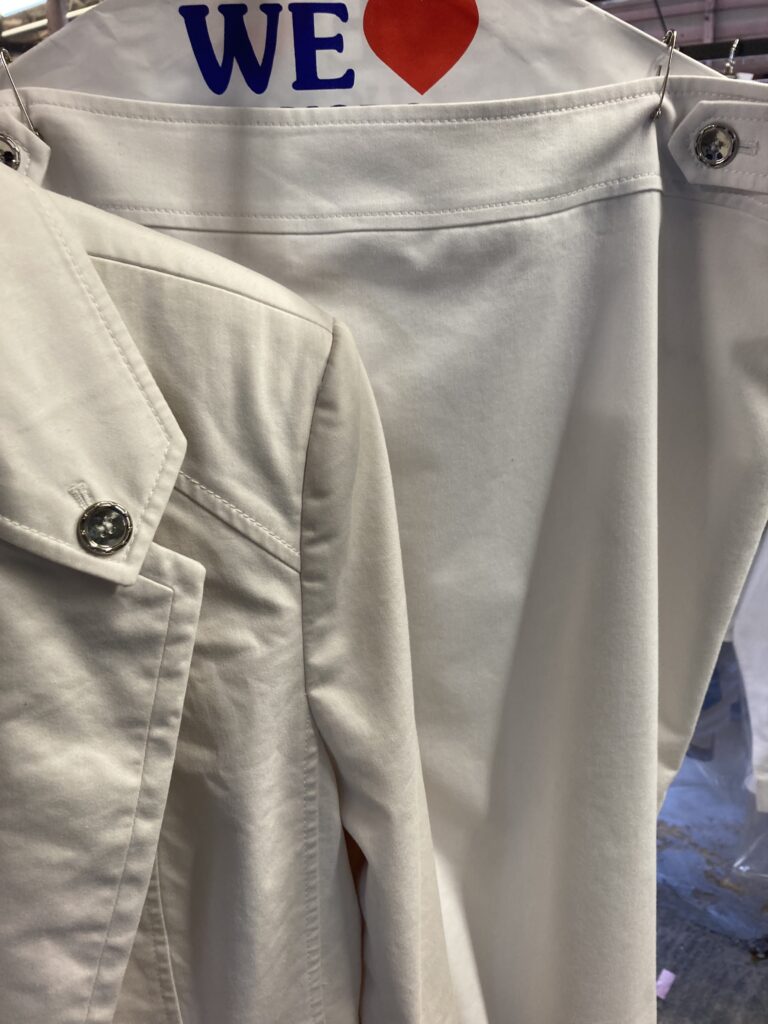 Dear Ricky,
Thanks for reaching out, and it was good to see you at the SDA Cleaners Showcase in April.
This looks like redeposition, due to dirty solvent. There is an easy way to check.
Take 4 – 5 drops of VDS Volatile Dry Solvent (California residents, where you can't use VDS, use InkGo.)
Apply to affected area…If you get a "dirt ring"…it's redeposition.
Remember…Clean dry cleaning solvent, is the lifeblood of your operation. You have some work to do, to fix this.
(I have had other chemical reps tell me it is impossible to remove redeposition from clothing. I tell them the same thing… "You were NEVER taught by Doris Easley and Kenney Slatten. That's why I'm the Stain Wizard, and you're Not.)
How to remove Redeposition:
In a clean bucket, tote or ice chest
2 gallons of 125 degree water
4 oz. of Sodium Perborate
Add 2 oz. of SpotsGo or RiteGo (it makes the water wetter and aids in the penetration of the fabric, to release the soils, etc.
Soak overnight, then wet clean.
Sodium Perborate is safe on all fabrics, EXCEPT WOOL.
After using Sodium Perborate, (on dry clean fabrics, especially). Neutralize it, by soaking in acidic acid (2 oz. per gallon) or tannin formula (4 oz. per gallon cool water).
Soak for approximately 20 minutes.
FAILURE TO DUE SO…can cause fabrics to yellow over time.