Raymond Wu owns Dri-Cal Cleaners in Arcadia, California. Wu is an investment banker by vocation but has a history in the dry cleaning industry. He used to build dry cleaning plants decades ago. When Dri-Cal came up for sale by the previous owner, Wu jumped on the opportunity. He saw Dri-Cal as an investment opportunity but found that he enjoyed working in the business.
After Wu took ownership of Dri-Cal, he immediately went to work by enhancing the exterior look and curb appeal. He chose orange as the primary color for the branding. New awnings, a fresh coat of paint and tree planters provide a welcoming feeling to both passersby and customers.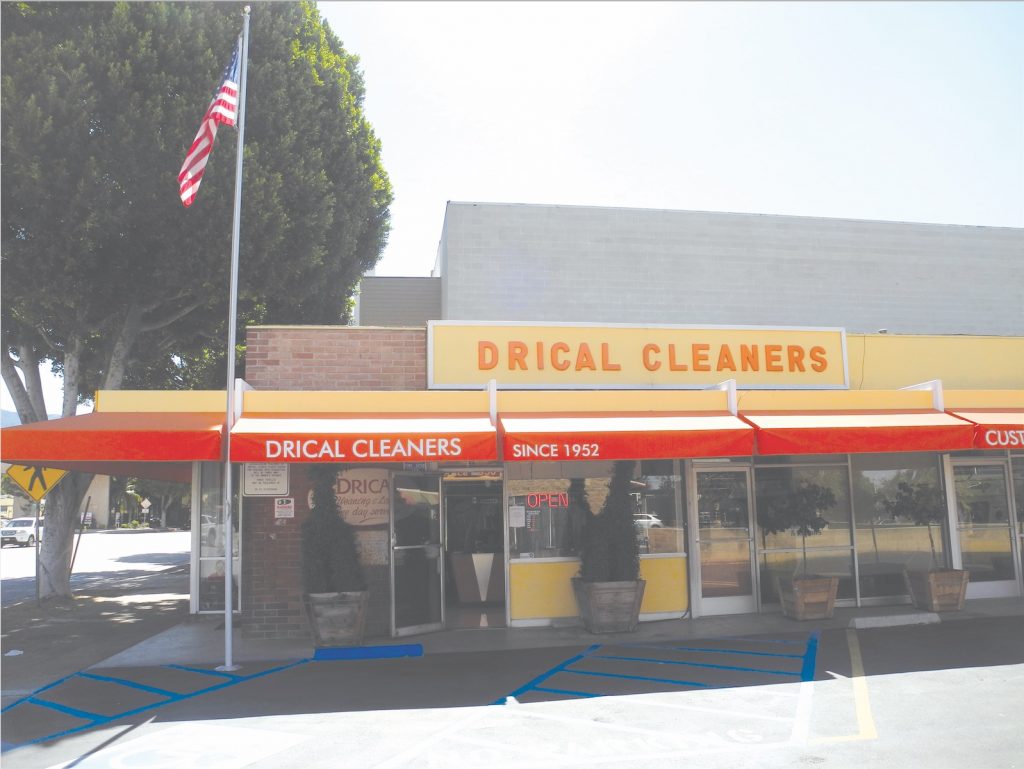 Upon entry, customers are greeted by a friendly and accommodating customer service representative who takes their temperature with an infrared touchless thermometer.
There is a choice of assorted chocolates on the front counter to satisfy one's sweet tooth. But there's more that awaits the customer. A selection of various beverages to quench one's thirst fills a mini-refrigerator: Evian bottled water, coconut water, exotic fruit juice, Perrier and sweet tea. A dedicated freezer for treats like Häagen-Dazs ice cream is tempting on a hot summer day. To top it off, Wu installed a $12,000 coffee machine. This impressive unit makes coffee, espresso, latte, cappuccino, vanilla drinks and chocolate drinks. If that isn't enough, it also produces hot water for a variety of tea choices. There's a little something for everyone's taste buds.
The comfort of his staff was not an afterthought either. A new cooling system ensures that the interior temperature never drops below 72 degrees Fahrenheit. Wu says that none of his employees will ever perspire. The padded carpet was installed throughout the entire production area to make standing a little bit easier for the pressers and spotters. Before $15 an hour was a minimum wage hot topic, Wu had the foresight and proactivity to get his employees to that benchmark. Once things stabilize the industry after Covid-19, Wu would like to move his workers closer to the $17 an hour mark.
Wu says he understands the complexities of running a business in a competitive market. He believes his advantage over his competition is his ability to work efficiently. Wu is making staffing adjustments when necessary, and cross-training is a priority. He is a proponent of raising prices. Doing so has caused sales to jump by 50% since he took over.
The coronavirus has been tough on many dry cleaners across America. Wu is using this pandemic to pivot as well as give back to the community. After realizing he purchased way too many N95 masks, he decided to sell the surplus at the price he bought them to anyone in need for only $5. As a salute to local heroes on the frontlines, Dri-Cal also provides free dry cleaning to first responders.
Wu owns two other dry cleaners, one in neighboring Pasadena and another in Orange County. He hopes to get into franchising and open up to fifty more stores in the next three to five years.