WHO? Josh Luna
WHERE? Kansas City, Missouri
WHAT? A household name since 1887, Faultless Brands is a true cornerstone of American business and fabric care. Since October of 2020, Luna, 45, has worked for Faultless Brands as its Director of National Commercial Sales/Operations. Born and raised in the Monterey Bay area of California's north-central coast, Luna migrated to Southern California to pursue higher education endeavors. Luna graduated from Cal Poly Pomona, where he majored in construction management and mechanical engineering. He also is a member of the BSA (Boy Scouts of America) of the Monterey Bay-Silicon Valley chapter. Luna makes his home in Salinas, California, with Tina, his wife of 19 years. Tina is an economics professor at a university, they have two sons, Ray Charles and Andrew (ages 13 and 7).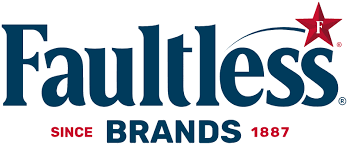 THE ONE THING I TRY TO DO ON A DAILY BASIS IS…
Have a solution to a problem and stretch! As we get older, we have to get a lot more exercise.
MY FAVORITE QUOTE IS…
"You have to work to succeed." That's me, my bio, my quote. It's even trademarked. My grandfather told me you always have to work hard to get anywhere in life.
I AM CURRENTLY READING…
American log homebuilders from the 1950s. I've been reading about different American homebuilders because American log homebuilders fascinate me.
BOOK THAT HAS HAD THE BIGGEST IMPACT ON MY LIFE IS…
Make It and Ride It by C.J. Maginley. That was a book I read when I was a kid, and I actually own a 1952 copy of that book. I made my first go-cart, a silver bullet, by using this book.
MY DEFINITION OF SUCCESS IS…
Having an impact on the laundry-chemical/construction industries.
THE BEST MOVIE I HAVE EVER SEEN IS…
I'm sorry but it's a tie between Smokey and the Bandit and Casino. Those are my heart right there.
MY MORNING ROUTINE IS…
Wake up at 3 AM, beat the Bay Area traffic, rock out and serve our laundry industry from sun up to sundown.
I AVOID DISTRACTIONS BY…
Taking a minute, evaluate, then execute the distraction.
I OVERCOME ADVERSITY BY…
Vacations!
THE MOST IMPORTANT LIFE LESSON I HAVE LEARNED IS…
Never rush the project. It will always be there tomorrow.
THE BEST CAREER ADVICE I EVER RECEIVED IS…
You get what you give. An old retired cowboy in the Mojave Desert told me that when I was a kid.
MY NUMBER ONE SMARTPHONE APP IS…
YouTube. I don't have satellite or cable at home. I just use YouTube.
WHEN I RELAX, I LIKE TO…
Ride my Harley and Vespa up and down the PCH.
IN 5 YEARS, I HOPE TO BE…
3/4 of the way closer to retirement.
I AM WORKING TOWARD THAT 5-YEAR GOAL BY…
Giving it 150% every day.
I AM MOST AT PEACE WHEN…
I am out hiking with my sons; anywhere here on the Big Sur coastline, the Monterey Bay, all the way up to the San Francisco Bay.
MY SOURCE OF INSPIRATION IS…
Nature.
I WORK TO IMPROVE MYSELF BY…
Taking classes to improve my work skill set. The last ones I took were about how to cope with difficult employees and successful teambuilding.
THE BEST LIFE HACK I KNOW IS…
Don't let anything drag you down.
I NEVER LEAVE THE HOUSE WITHOUT…
My army Swiss knife and Leatherman.
A PODCAST I RECOMMEND IS…
NPR.
SOMETHING EVERYONE SHOULD TRY AT LEAST ONCE IS…
Bungee jumping.
I HANDLE DISAPPOINTMENT BY…
Thinking of something positive.
WHEN I WAS YOUNGER, I WANTED TO BE A…
Builder. Just like my grandpa.
A GO-TO BAND OR MUSICAL ARTIST ON MY PLAYLIST IS…
Van Halen. When I was in high school in Salinas, I went to quite a bit of Van Halen concerts. Metallica and AC/DC were some of my other favorites, but Van Halen has always been my go-to.