Since its inception in Spring of 2016, Business 4 Business (B4B) has been an invaluable and free resource for business owners, independent business people and entrepreneurs. Joan DeSouza is the founder and moderator of B4B, a business support group based in Pasadena, California. The primary mission of B4B is "assisting businesses to continually succeed."
Born in Lawrence, Massachusetts and raised in Northern California, DeSouza has a degree in Social Sciences from San Diego State University. She spent 30 years in executive management at the Los Angeles Times as Customer Service Manager, leading a staff of more than 200. She understands group dynamics and started B4B to get results for small to medium-sized businesses and is passionate about helping business owners succeed.
Through B4B, DeSouza moderates a monthly Think Tank designed to help businesses grow and reach the next level of success. The idea for B4B Think Tank came about when DeSouza was Vice-chair of Member Services on the Executive Board of Directors for the Pasadena Chamber of Commerce. "What concerned me was that we would have businesses open, we'd do a ribbon cutting, everybody's excited and in a year they were closed," lamented DeSouza. "I wanted to bring business people together to help a business that is ready to close or one that has just opened and needed some ideas."
Having owned several businesses herself, DeSouza has an understanding of the challenges, obstacles and hurdles that business owners go through to become viable and profitable. Even though DeSouza possesses a wealth of business acumen and experience, the true beauty of B4B's Think Tank is how she leverages the collective wisdom and expertise of a wide variety of business people from different industries and diverse backgrounds. Decades of networking, relationship building and sacrificial service to her community has given DeSouza the cache and gravitas to assemble the full range of business people from multiple industries. The group has a bit of everything – including, but not limited to chefs, web designers, plumbers, media, SEO specialists, financial advisors, digital marketers, publishers, coaches, non-profits, authors, printing companies, graphic designers, consultants, acupuncturists, social media specialists, hair stylists, executives, attorneys, event planners, photographers, realtors, bakers, musicians, videographers, kitchen designers, senior care specialists, air conditioning pros, wedding specialists, CEOs of large multi-national corporations, insurance agents, etc. There is even a token dry cleaner (yours truly).
The structured format implemented by DeSouza exists for the benefit of the featured "hot seat" participant who is seeking assistance to start a business, stay in business, or grow their business. This individual brings business challenges he or she is facing and presents it to the group of other business owners. Then the magic happens. The person in the "hot seat" is required to go completely silent, become an aggressive listener, and take copious notes. DeSouza systematically works the room like a forty-niner in the California gold rush searching for treasure. Different business owners from varying industries chime in with their pearls of wisdom to help the business person in the "hot seat" find real and meaningful solutions to their challenges.
"Everybody who comes learns something; it's not just the person in the hot seat," said DeSouza. "Every person that comes is taking notes, and it's going to help their business because they'll hear something that the individual has an issue with and they'll think, 'oh wait a minute, I have that issue too; let me write down what these other people are saying.'"
As owners in the garment care industry, there is no denying the real value in belonging to cost groups, bureaus and associations of like-minded people that know and understand the peaks and valleys of being in our line of work. Sometimes you need a different perspective from someone on the outside that has no clue about dry cleaning, laundry, tailoring or pressing. Their fresh and untainted view could be a difference maker for you.
If you live in the greater Los Angeles area of Southern California or have an opportunity to visit, attending the B4B Think Tank is a worthwhile endeavor. Admission is free, but reservations are a must to this popular and ever-growing event. You can get more details at www.JoanDeSouzaB4B.com. Business 4 Business is also one of the exhibiting businesses at L.A.'s Largest Mixer 2019 on Thursday, July 18 at the Pasadena Convention Center.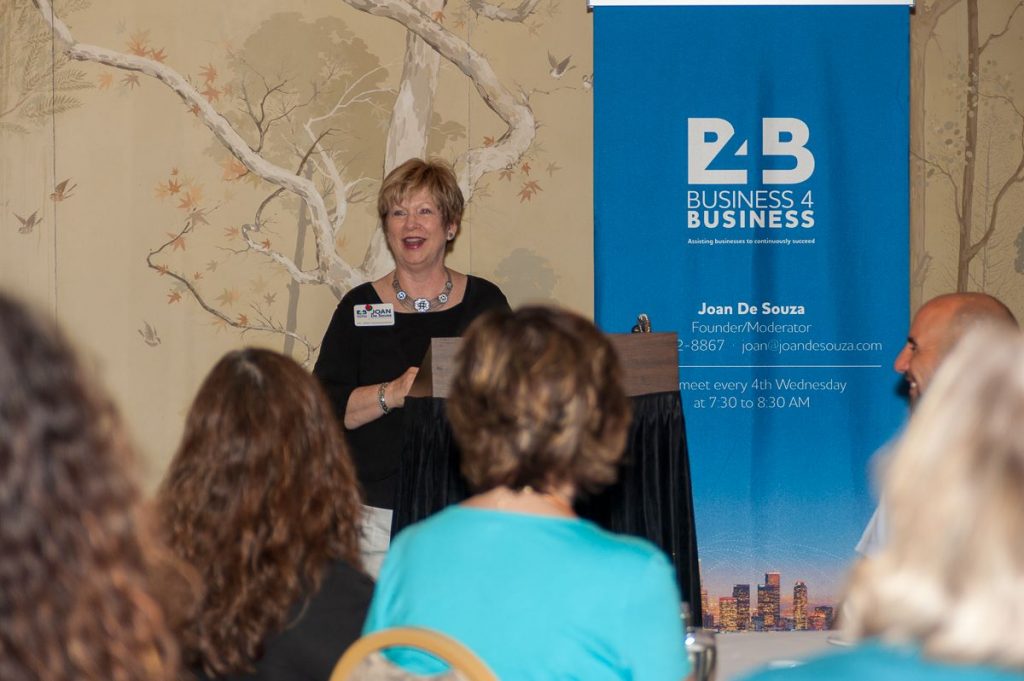 "I'd love to spread the Business4Business Think Tank all around the country; there are too many small to medium-sized businesses that are struggling and don't always know where to turn or don't want to ask for help," DeSouza said. "There are too many business owners that have life experiences that can help these different businesses; so, I'd like it to spread wherever it will go." Perhaps you are interested in bringing the B4B Think Tank to your hometown or an area near you. You are welcome to make an offer loaded with sweeteners and incentives to Joan DeSouza via www.facebook.com/JoanDeSouzaThinkTank.