Once again there are big changes afoot at Google that may affect how your business gets found online when people are searching for a drycleaner. Google is shutting down and rebranding Google Places into a new service called (Google My Business). The idea is these latest changes are supposed to increase visibility in Google Search, Google Maps, and Google Plus.
First, in order for you to be found, you must be listed, which means you need to register your business. If you are NOT registered, odds are, you won't be added to Google My Business. And if your competitor registers, and you don't, all that search traffic will go to the other guy, and not to you. So, get registered!
If you have already registered your business with Google Places, your listing will be imported into Google My Business, somewhat. I say somewhat because Google My Business has MORE features than the old Google Places. Your old Google Places listing will import only the old information you previously provided. The extra information fields Google My Business offers will be left blank, resulting in an incomplete Google My Business listing, and that's not good.
So, go to website and log in. Your log in information for Google Places should work, if it doesn't, your universal Google products log in should work. Check out how your listing information appears, and make any corrections, then save your changes. Your listing changes will be reviewed by a Google employee, and in two to six weeks after your changes are approved, they will start to show up in Google's searches, Google My Business, and Google Plus.
Why is accurate information so important? Well, Google does check for consistency of all the listings they collect. Google monitors each and every search conducted, and Google has amassed a huge library of information about what people are searching for. As an example, Google knows that people who are looking for a drycleaner are looking for:
– close proximity, people do not want to have to travel far to a cleaner, so closer is better, so make sure you have your address listed correctly.
• hours of business: are you open now, or what hours are you open?
• services you offer: do you offer one hour service, same day, and whattypes of service? If I'm looking for a cleaner who cleans clothes and does minor repairs, you should include that you offer dry cleaning and alterations in your listing – relevancy to the searchers' needs is vital to Google providing a search result, and only the best and most relevant search result information is displayed, so be complete and thorough.
– location map details: these days many folks rely on maps and directions as provided by Google. Goggle will, literally, give turn by turn directions to a potential customer right to your store, so you can well see that having an accurate address for Google Maps to use is critical to Google directing customers to your store(s).
Here is a link to search results in my home town of Regina
For those of you reading this article online, here is a screen shot of the same search results:
This search results demonstrates the importance of being listed in Google My business. First off, notice how the Google My Business listings and Google Maps search results appear at the very top of search results? That's right, Google is prioritizing search results, placing Google My Business and Google Maps search results ahead of search results links to relevant web sites.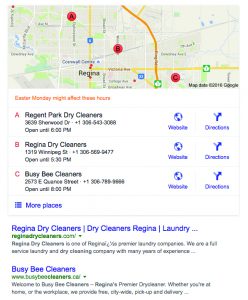 Notice that there are 'more places' that can be displayed? When you click on more places, you will see more dry cleaners in Regina. Why did those businesses not get included in Google's search results? Well, they aren't listed in Google's My Business system, or in Google Maps, so Google cannot display them as these businesses are not as relevant to the search terms as dictated by Google's proprietary information ranking system, so they are reduced in ranking score and not displayed. All these other cleaners are missing out on potential business simply because they are not listed, and not being found, which costs sales and lost income. Learn from my local cleaner's mistakes, BE included!
Being listed in Google My Business does not cost you anything, it's a free service provided by Google. Yes, it can be somewhat of a pain going through the process of signing up, creating account, and supplying all the needed information to Google, and it can take some time before your work is included in search results. You may even need to confirm your business by waiting for a confirmation postcard to come in the mail to verify that yes, you really do exist. By the way, if you are not technical in nature, or the listing process is too onerous for you, my firm will do it for you at a nominal fee.
Getting and being listed is worth it. How do I know it's worth it? Well, Google will email you occasional reports showing how many times your business came up in search, and how many times prospective customers phoned your business:
I'd say that is a pretty decent return on a small investment of a little time and effort, and it will continue to work for you month, after month, after month.