DLI Mystery Shopping Program "Essential" to Success
For the second consecutive year, Champion Cleaners of Birmingham, Alabama owner David Whitehurst earned the "Best Overall Service" Award. His three locations received the highest overall mystery shopping scores again in 2015.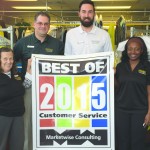 Pictured at Champion Cleaners Greystone location (left to right) are  Sheila Mims, Customer Service Manager; Craig Ledwon, Plant Manager; Kyle Gainer; Caleia Hamilton.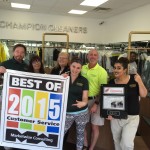 Rocky Ridge Plant (l-r): Tim Sparks; Vickie Hanner; Cindy Palmer; Morgan Simpson; Ric Pevey,  Plant Manager; Nadya Mohamed, Customer Service Manager.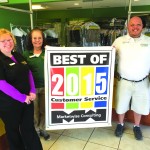 Calera plant (l-r): Tammy Ingram; Connie Cummings Customer Service Manager; Terry Hall Plant Manager.
Whitehurst said, "We take this program very seriously. Everyone in our organization has a laser focus on service at the counter. And it shows!" All participants in the DLI "Essential" mystery shopping program are scored on their customer service at the counter during drop off and pick up, plus an evaluation of the items cleaned.
Mary Scalco, DLI CEO said, "Nationally, the number of 'Essential' mystery shops performed in 2015 increased by more than 35% from the previous year. I am encouraged that our members are taking advantage of this exclusive offer. The emphasis of customer service at the counter is a key ingredient in the overall success of drycleaners everywhere." Scalco continues, "The competition for this award is intense. I am very pleased to congratulate all three of this year's winners."
•  2nd Place Overall Scores
Gunderson Cleaners, Menasha, Wiconsin – Gary Gunderson
•  3rd Place Overall Scores
Ziker Cleaners, South Bend, Indiana – David Ziker
The mystery shopping program is administered by DLI partner, MarketWise Consulting Group of Appleton, Wiconsin. Late in 2015 MarketWise began offering recorded mystery shopping telephone calls for DLI members. President Carolyn Nankervis said, "The participants have told us the "411" program has been very eye-opening in evaluating CSR knowledge. Beginning this year, we will also offer a Best Overall Service on the Phone award to the cleaners who scores the highest overall."
To be eligible for the Best of… Awards for 2016, cleaners must have each store location mystery shopped at least six times during the year. Dry cleaners are encouraged to enroll now. The "Essential" program and the "411" telephone mystery shopping programs have been designed and specially priced for DLI members. For more information or to begin a program visit: http://tinyurl.com/mmkqwd5
DLI exists to help drycleaning entrepreneurs succeed. Contact DLI for more information on this or any other service.
Learn more about The Drycleaning & Laundry Institute at DLIonline.org.