Current Position: Bonnie Blum is the retail manager at City Cleaners in Akron, Ohio. Starting as a customer service representative (CSR) nearly fourteen years ago at age 19, Blum became a store manager after a few years.
She was promoted to her current position just a few months before COVID-19 affected the United States in a full-blown way. "I have been the retail manager of our six stores for the past two years," said Blum. "I've grown personally and professionally all while being with this company."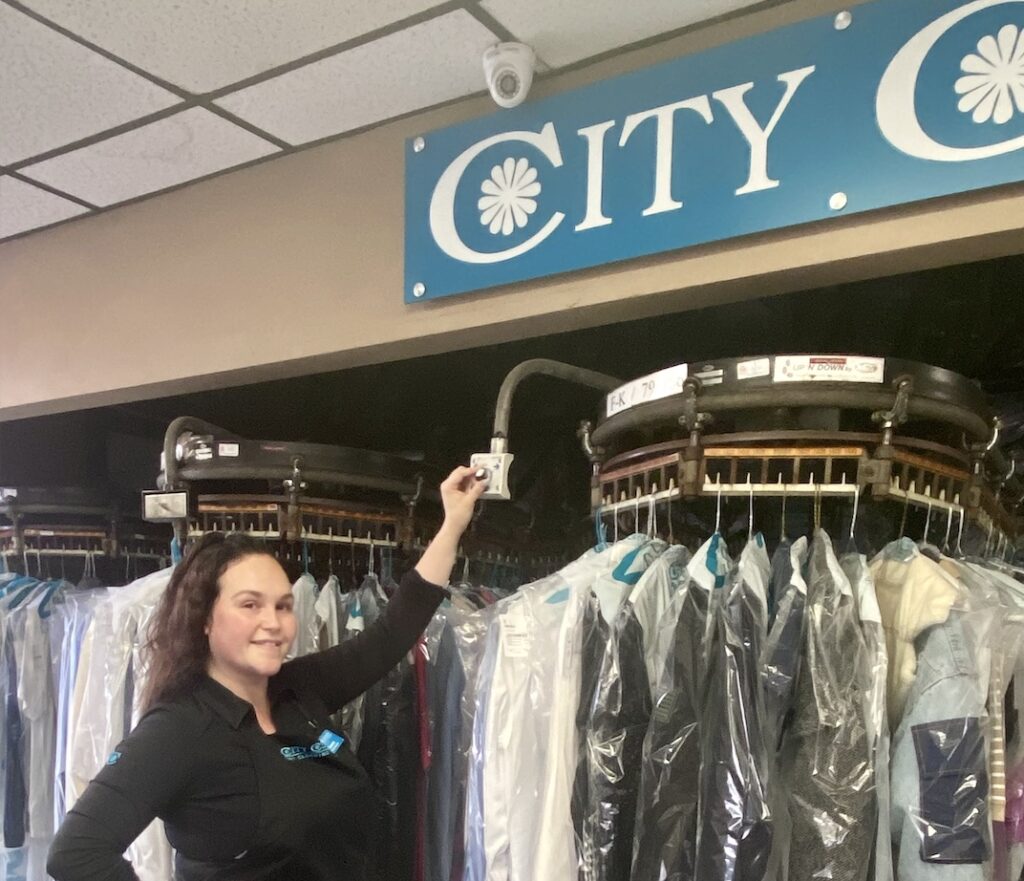 The Business: Jeff Sitz is the owner of City Cleaners, a four-generation family tradition that has served the Akron community for over 130 years. City Cleaners is a full-service dry cleaning and professional laundry establishment specializing in leather, fur, rugs and numerous other specialties. With six stores, multiple routes, and generous philanthropy within its local communities, City Cleaners has cemented its status as an industry leader and household name.
Back in the Day: Born and raised in Akron, Blum grew up with one sister. Going to the beach with her family stands out as one of her favorite childhood memories.
"I was pretty shy and loved reading," she recalled. "I had a tight group of friends that I have been extremely lucky to hold on to today."
The example and guidance provided by both of Blum's parents impacted her that follows her to this day. "I've had the good luck and fortune of being raised by parents and family members who were and still are my biggest supporters in whatever I do."
Her mother's work ethic especially stands out. "My mom worked a lot; tons of overtime to support her family, and I can't think of one time she ever complained," said Blum. "What she wanted for my sister and me was to find a job or career that we enjoyed and could support ourselves with."
A New Title: It's no secret that the first-ever global pandemic of the current century has wreaked havoc on businesses in the garment care industry. Imagine the learning curve that comes with adjusting to a new job promotion and the inherent obstacles that go with it.
"I became our retail manager just three months before the first shut down in March 2020," said Blum. "Navigating my new role while also dealing with all of the fears and issues many companies were dealing with at that time was difficult, but it gave me the skills and confidence to handle anything that comes my way head-on."
Management Philosophy: Blum described her leadership style as a blend of fostering compassion while balancing that with meeting the needs of the company and the customers. Blum credits her "ability to remain calm and focused during difficult or high-stress moments" as an essential quality that those under her charge look to appreciate.
Lean Times: She feels a sense of family at City Cleaners and appreciates the supportive and nurturing atmosphere that Jeff Sitz has created for her and the entire team.
"The owner of City Cleaners, Jeff, and our general manager, Christine Henry, have made my transition to the retail manager become a role I enjoy doing every single day," Blum said. "I can't imagine doing this without the advice, professional and personal support and guidance I receive from them."
Customer-Centric: "We are known for our excellent and professional customer service, and that's what I'm most proud of," Blum exclaimed! "We give each customer service representative a budget of $50-$100 (bi-monthly) to do what we call an "above and beyond" kind and thoughtful gesture of their choice for a customer."
The mandatory program has no agenda nor considers how much revenue a customer brings to City Cleaners. It could even be a one-time customer who touches a CSR's heart. With the allotted budget, the CSR has complete control to do whatever they desire to do for the customer.
Blum recalls a touching event when several CSRs pooled together their "above and beyond" budget to do a grand gesture for a frequent customer. She had been recently diagnosed with cancer while also going through a divorce.
The CSRs used their pooled budget to give a generous gift card for a shopping spree at the customer's favorite clothing store. The CSRs knew where the customer shopped by noticing the labels in her garments and diligent note-taking of conversations in the POS software.
"We talk to our customers a lot and get to know them," said Blum. "It's a part of our culture here at City Cleaners."
Perspective: "For me, success means enjoying what I do each day at work and also outside of work," Blum mused. "Success is also having a team that trusts me and represents the company well."
Balancing Act: "Find out what it means to you to take care of yourself physically, mentally, and spiritually, and find a way to do that every day," said Blum. "If I had a challenging day at work, I come home and make sure I give myself quiet time; it's important to make time for my routine of self-care."
Different Lens: When Blum began her career at City Cleaners, she was a CSR and admitted that she didn't pay much attention to specific details such as industry trends. Now more keenly aware, she notices an uptick in the production of household items. "People are bringing in way more comforters, blankets, quilts, and sheets," said Blum. "We've seen a big transition to wash-dry-fold and people working from home who use our route service." She attributes these shifts to a combination of lifestyle changes and a concentrated marketing effort to bring in additional business.
Industry Forecast: "I think we're going to see less business wear such as suits," said a thoughtful Blum. "We see the shift of companies that are going to continue having a big portion of their employees work from home."
She was careful to note that the trend of minor business wear coming in has led to more everyday items and formal wear making its way into the mix. "People are going out more and having fun."
Looking Ahead: Though relatively young, Blum sees herself as a potential "lifer" in the industry and wants her career to stand the test of time. "I would like to see us open more stores and grow so much that I need to add a couple of regional managers," she beamed. "I think that would be really awesome!"
Personal: Blum turned 33 last month and lives with her family in Akron, Ohio.