Current Position: Retired. June 30, 2023, was Carol Greenholt's last day as a dry cleaner.
Formerly: Greenholt, along with her husband Gary, were the owners/operators of The Palms Drycleaners and Launderers in Hanover, Pennsylvania.
When Carol and Gary married in 1991, she was encouraged to get involved in the family business his parents owned. At the time, they had a laundromat, where Greenholt's career began. "As staff at the dry cleaners got older, quit or retired, it was only natural I move from the laundromat to the dry cleaners," said Greenholt. "When Gary's parents decided to retire, we bought it from them."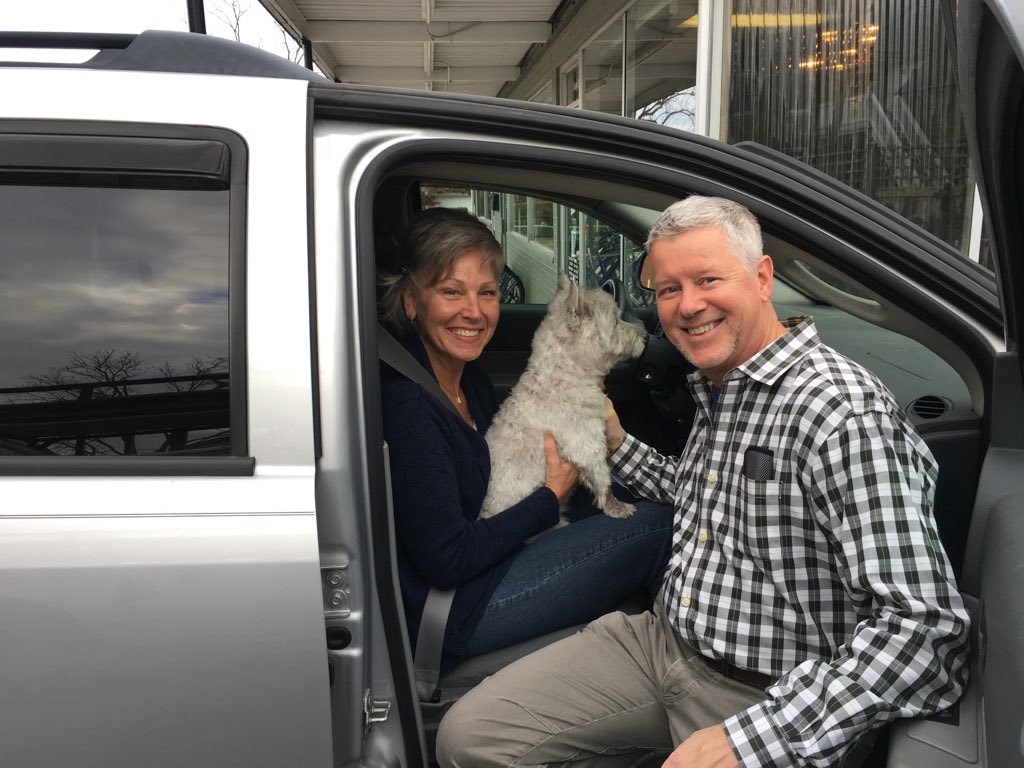 Carol credits Gary's parents for keeping her up with the family business. "Charles and Deanie Greenholt, who started Palms Drycleaners, were already successful before I got there, so they were instrumental in teaching me the basics of the industry."
The Early Years: Greenholt was born in Chicago, Illinois. When she was five, her family moved to Pennsylvania, where her mother was originally from. She recalls having an excellent, happy and normal childhood.
"My mother made sure my sister and I could go to the swimming pool every day of the summer because my father worked a lot," Greenholt recalled. "I did not get in trouble because I had the fear of God and my father, and that's in a good way."
"My father and my mother taught me a good work ethic," Greenholt said of the parental guidance and influence that has shaped her into the woman she is today. "I am strong-willed and a hard worker; as a matter of fact, I love to work," she beamed enthusiastically!
Rearview Mirror: Now that she is no longer in the garment care industry, Greenholt has the luxury of recalling the various obstacles and challenges that used to try her patience. Some of the irritations were absent staff, irate customers, machinery breakdowns and offline computers. "I'm sure other cleaners have their laundry list of struggles," said Greenholt. "It's all part of being in business; no one is immune."
Leadership Style:
Her self-proclaimed ability to remain flexible in demanding situations combined with a poise that avoids panic is what Greenholt says makes her the type of leader anyone would want to work for. "You would love to work for me," said Greenholt. "I am calm and respectful. If you need me, I am there for you. My door is never closed, and you are never bothering me."
Quotable: When asked about the role luck plays in one's business success, Greenholt quickly pointed out that there is no luck but rather hard work.
"I'm going to coin a phrase Gary came up with a month or so ago," said Greenholt. "He turned to me and said, 'There is no substitute for work; some people are lucky, and some people have lucky seasons, but there's no substitute for work.' "
Clear Conscience: "For me, peace is my marker for success," said Greenholt. "If I have peace about something, I feel I've done the right thing."
Words of Wisdom: For Greenholt, whatever ails us can be summed up in a simple eight-word phrase — Relax; nothing is the end of the world.
"Think about what you're doing, think about what you're saying, and think about what you're thinking," quipped Greenholt. "If you need more information, take time to get it and strive for peace as much as it is in your power to do so."
Advice for Newbies: "Take time to find out what the public wants," stated Greenholt. "Pick your top three and focus on them for the first year."
"If I were starting again, I would put in a drive-through window, make it easier for customers to pay online, and I would do drop off laundry in a more serious way."
"This is a fabulous industry," continued Greenholt. "Just make sure you get the training you need, whether you're doing the cleaning, pressing, the sewing, or are on the counter."
Industry Forecast: She believes owners/operators can grow and scale their business if they seize the moment. "I see so much opportunity with drive-through windows, truck routes, drop-off laundry, credit card payment options and new computer systems; the world is our oyster," exclaimed Greenholt. "The customers are out there. You just have to think about what they want and what would make their life easier."
The Write Stuff: The title of "Published Author" is something Greenholt recently added to her prolific and storied resumé. In her first offering, "Tales of A Dry Cleaner," Greenholt shares some interesting stories in her shop over the years.*
"Who would have ever thought that people would be so excited about reading it," mused Greenholt."I'm hoping that this small project, worked on during Covid, will even more unite us as an industry. We are a community, and we need each other."
Personal: A devout Christian who "loves the Lord," Greenholt faithfully attends Hanover First Church of God. She has been a children's ministry Bible study teacher and led several women's groups. With the daily grind of being an owner/operator behind her, she expressed a desire to do more writing and teaching.
Greenholt, who will celebrate her 64th birthday early next month, has been married to Gary for 32 years. They reside in Hanover, Pennsylvania. Their adult son, Garin, is married and lives in Connecticut.
*"Tales of A Dry Cleaner" can be purchased on Amazon or Barnes & Noble
John Leano works for BRYAN'S Cleaners & Laundry in Pasadena, California. You may contact him via email: Leano@BryansCleaners.com