Current Position: Flor Castillo, 39, is the founder and owner of Flora's Dry Cleaners & Alterations in Sierra Vista, Arizona. Castillo has worked in the dry cleaning industry for ten years but is relatively new to the ownership side of things, having launched Flora's in October 2017.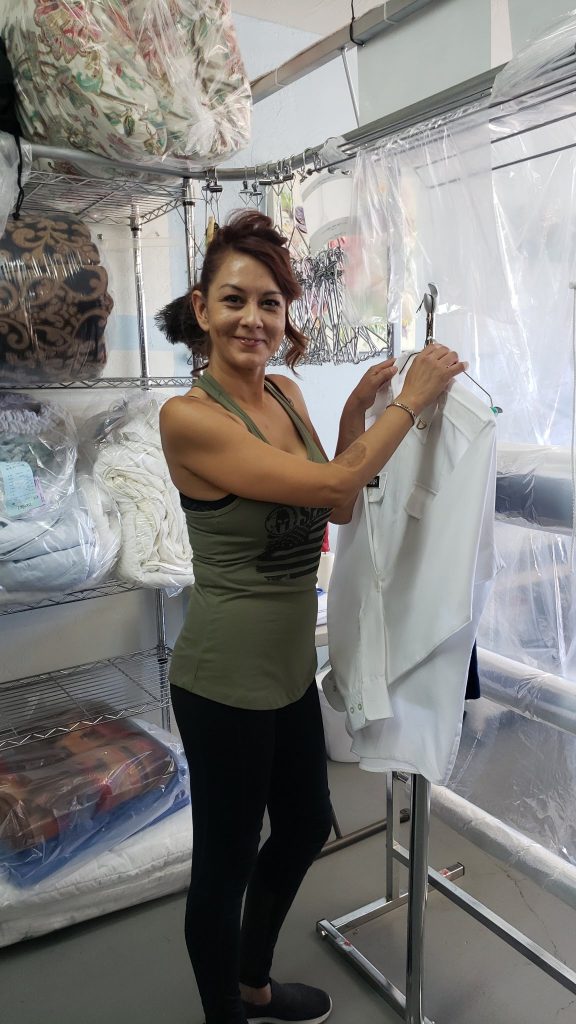 The Company: According to Castillo, Flora's Dry Cleaners & Alterations is known for being the only eco-green dry cleaner in Cochise County. "At Flora's, we do anything from dry cleaning to wet cleaning, to even things that people think can't be cleaned or saved," said Castillo. "We specialize in a little bit of everything, but our specialty is doing the medal set-ups for the soldiers at the Fort Huachuca military base."
Flora's Dry Cleaners & Alterations recently won the 58th Annual Plant Design Award, a distinction that humbles Castillo yet causes her to swell with pride. When Castillo entered Flora's into the plant design contest, garnering top honors was beyond her wildest dreams. "I would have never thought that my little store would win the award for plant design," said an incredulous Castillo.
Childhood Memories: Castillo fondly recalls a healthy and happy childhood in Parral, Chihuahua. She was surrounded by numerous cousins and friends to play with in her small neighborhood. Before immigrating to the United States from Mexico at age 9, Castillo enjoyed school. The classes she excelled in the most were dance and English.
Her mother and grandmother raised Castillo and her brother. From an early age, her grandmother instructed her to "always look at the bright side of things and always push yourself to be better."
"I was blessed with the childhood my mother and grandmother gave me," said a grateful Castillo. "They raised me to be the woman I am today."
Prior Careers: After being pulled out of her comfort zone in Mexico, Castillo admits to initially suffering from culture shock with regards to her new life in America. "Unfortunately, when I was in my teens, I started taking the bad route," Castillo said. "I didn't finish high school and had really odd jobs."
Castillo is a certified EMT, following a long line of family members with prolific and successful careers in medicine. "I tried to take that path, but it wasn't for me," she said. "The first ambulance ride I took, I knew it wasn't in me."
She landed in hospitality, where she lasted for approximately five years. "I climbed up the ladder there pretty quickly, opening hotels for Marriott," recalled Castillo. "It was something I could do, but it wasn't something that I wanted to do."
Switching Gears: Lloyd's Dry Cleaning in Sierra Vista is where Castillo made her foray into the garment care industry. "I saw an ad in the newspaper for a front counter position at a dry cleaner," said Castillo. "I applied for the job, and Mr. Lloyd gave me the job; so that's where it all began."
Working at Lloyd's is where Castillo fell in love with the dry cleaning industry. She soaked in as much as she could and became adept at multiple positions. "I started growing there and learning the whole process of how everything works," beamed Castillo. "This is where I had my first taste of what it was to be a business owner; Mr. Lloyd was like my second dad."
Taking the Big Jump: The opportunity to purchase Lloyd's presented itself and Castillo was ecstatic to be a business owner in an industry she had dedicated herself. Unfortunately, the deal fell through, and her entrepreneurial spirit felt devastated. This minor setback didn't stop Castillo from pursuing her goal of owning her dry cleaning establishment. She located an available building in an ideal location and pushed through with determination.
Castillo and her family started with nothing and built the business from scratch. They had a tight budget and wanted to limit spending as much as possible, so they did the majority of the work themselves. "Most of the work was done with our hands because we were trying to save money," said Castillo. "Flora's was born on a dream; a dream that today is true and that I'm very proud of."
Daddy's Girl: Much of Castillo's business acumen comes from her father. She said that how she runs her business comes from observing how he led his life from day to day. "He never owned his own business, but he ran a lot of big businesses and warehouses most of his life," she said. "I mostly get my work ethic from my father."
"My dad taught me that in order for me to succeed in my business, I need the right people by my side," Castillo said of her father's influence. "The biggest credit goes to my family; without them, all of this would not be possible."
Advice: "I don't think you need to have a special quality or characteristics to succeed," said Castillo. "Anyone can succeed at anything in life if they want it bad enough."
Castillo recently spoke at a commencement ceremony of business school graduates. Some of these young people are entrepreneurs and future business owners. She was sure to remind them that three things were in store for them: hard work, sleepless nights and fearful nights. "I told them, 'if you put your mind to it, anything can be done.' "
Words of Wisdom: When it comes to business, Castillo does not believe in luck. "I think that luck is for the blackjack table in Las Vegas," she said. "The most important part of my business is my team; without them, I could not run my store alone."
Regarding lessons learned thus far, Castillo claims that she would not change anything.
"I have no regrets, and if I fall, I get back up."