Current Position: Ron Carver, 53, is the manager of Rogers Cleaners in Saint Petersburg, Florida. He has been with Rogers Cleaners since 2013.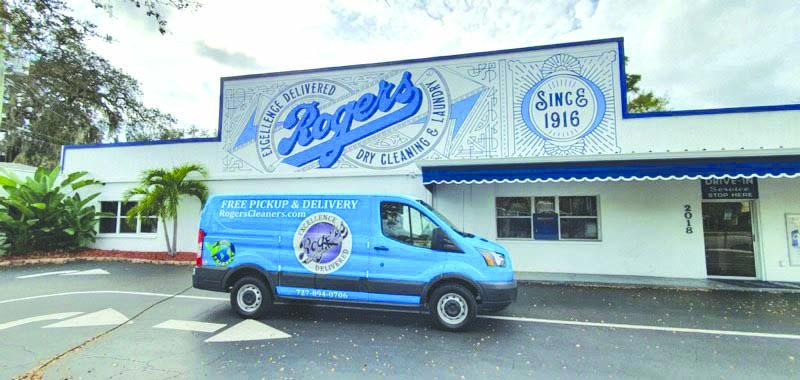 The Company: Rogers Cleaners is a family-owned and operated dry cleaning and laundry establishment in business since 1916. Rogers Cleaners specializes in luxury garment care and caters to a high-end clientele. They are the oldest continuously family-owned dry cleaners in the Southeast United States. The Rogers family is known for being one of the founding families in the Saint Petersburg area.
"We feel that our great customer service and years of experience set us apart from our competition," said Carver. "I feel that we are most proud of the fact that we have been servicing our community for over a century and have watched many generations of families grow with us and our city."
Growing Up: A native of Saint Petersburg, Carver enjoyed playing football, baseball, golf and fishing. He is a self-described extrovert who "had no problems making friends."
"I wanted to be outdoors more than anything else and enjoyed hanging out in the woods by the house, building tree forts with friends," Carver reminisced.
Cherished Moment: Carver's favorite memory was buying his mom her first bicycle. "She had told me stories of her growing up that she had to share hand-me-downs with her brothers and sister and that she never had her own bike," said Carver. "So at twelve years old, I worked all summer mowing yards to save enough money to buy her a new bike for Christmas; I will never forget the look on her face to this day."
Getting Into the Industry: Carver worked in the automotive industry for 25 years, primarily in paint, body shop and truck accessories.
In 2012, a cousin working for the Rogers family once asked for assistance with a broken-down conveyor. Shortly after that, his cousin began recruiting him to join him at Rogers Cleaners. After six months, Carver finally made the switch. "I started as a delivery driver for the first year and soon after climbed the ladder to route manager, then retail manager and on to store manager," Carver said of ascent at Rogers Cleaners.
Challenging Times: For the most part, Carver's career in garment care has been pretty straightforward, with few barriers.
"MC Rogers passed away not long after I started, and that was tough on the family," he said. "But mainly, like most of us, the biggest challenge was dealing with Covid."
Mentors: At the top of the list is his late mother, who worked with hospice patients for most of her career. "I would put my mother as my biggest supporter and mentor early on as I watched her work ethic and compassion for her patients," Carver recalled. "I was able to witness some amazing and devastating times, and how she handled those was awe-inspiring."
"I have had the pleasure of working with many great people in my career that I wanted to follow their leadership style and a few I knew I would not," Carver said. "My more current mentors would be Mitchell Rogers and The Route Pro's group (James, Mark, Jennifer and Brian); they have been a big part of my growth in the industry along with the leadership group of our peers." *
Good Fortune: "Like a lot of us, I have been lucky to have been in the right place and at the right time," Carver mused. "I personally think that part of being lucky is putting yourself in a position to succeed, understanding situations to maximize your skillset, which will often lead to more good luck than bad."
Defining Success: "This is tough for me because most people define success monetarily." Carver's perspective on this topic aligned with legacy and helping others with shared knowledge. "Helping others grow was always more important; it's not what you have but what you leave behind for others.
Leadership Style: In any team or corporate setting, Carver said that mistakes are bound to happen. He said it's crucial how you coach your people through such times. "It's my objective to develop people not just for the moment but also for the future," he said. "Nobody here walks on water. We all make mistakes; it's how to learn and not repeat them."
Industry Forecast: "I am curious to see how the big push away from the petrochemical industry worldwide will affect our industry," said Carver. "Many of the products that we use are derived from petrochemicals."
Some of the other changes that Carver sees are more people discovering they can work remotely, resulting in more casual work attire. He also believes that the 24-7 kiosk concept and app-based customer interaction is the direction in which we are heading.
Words of Wisdom: "Be true to yourself and trust your gut feelings," stated Carver.
Another lesson Carver has learned over the years is the importance of prioritizing more time to spend with family and loved ones. "Life is mainly made up of ten-year blocks, with most of us getting between six to eight blocks. It goes quick, and no one knows how many we get," he exclaimed. "Make the most of the ones you do get!"
Personal: Carver is quite active in a sport experiencing exponential growth nationwide. "I still enjoy being outdoors, with my new passion being Disc Golf."
Carver celebrated 23 years of marriage with Ardis, his wife. They live in Saint Petersburg, where Ardis has worked in the VFW corporate office for 35 years. One of the things on Carver's bucket list is to finally take Ardis to a place where she can see snowfall for the first time.
*Carver was recently inducted into The Route Pros Hall of Fame.
John Leano works for BRYAN'S Cleaners & Laundry in Pasadena, California. He responds to email: Leano@BryansCleaners.com