Current Position: For the past five years, Sara Moncrieff has been in charge of Community Relations at Puritan Cleaners in Richmond, Virginia. Moncrieff's constant focus is on building genuine relationships and searching for avenues to grow Puritan Cleaners through community engagement with causes such as Coats for Kids, Cinderella Dreams, 100K Meals and Thank You, Patriot. "Together with our community, we've collected over 1.4 million meals through our 100K Meals campaign and donated over 500,000 coats as part of our Coats for Kids program," said Moncrieff.
In addition to working with various media outlets and charity groups on behalf of Puritan Cleaners, she also oversees online marketing and social media.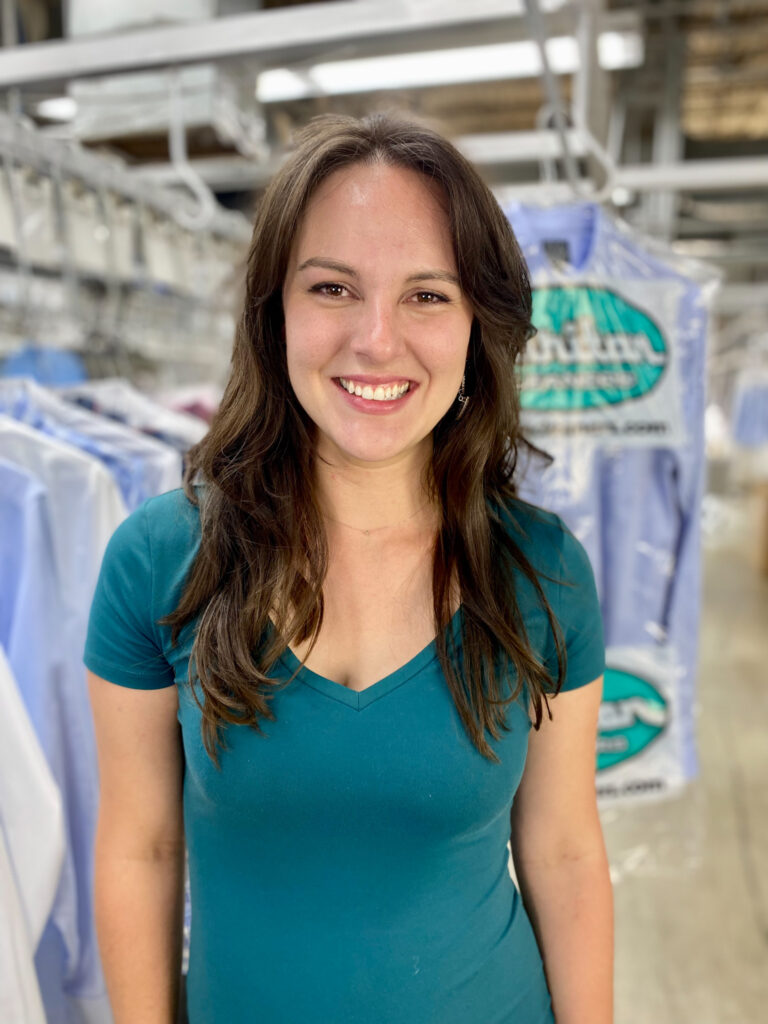 The Business: Celebrating 85 years of business, Puritan Cleaners has over 160 team members and serves its community with 14 locations, including home delivery service. Their simple philosophy of providing customers with convenient, high-quality cleaning at a reasonable price has garnered various awards and special recognition for Puritan Cleaners. For over 30 years, the readers of Richmond Magazine and Style Weekly have voted Puritan Cleaners as the best dry cleaner in Richmond, Virginia. Puritan Cleaners also holds the prestigious distinction as one of America's Best Cleaners.
Village People: Realizing that part of her success is the by-product of others who have generously poured into her life over the years, Moncrieff is careful to give credit where appropriately due.
Moncrieff said that her mother and father, Caroline and Norman Way (dad is vice president at Puritan Cleaners), taught her to learn from everything and to take every situation as an opportunity to grow. "I credit them for my work ethic and thank them for setting the example of caring for others," she said of her parents. "My parents were a huge influence in my life and they were always very engaged and looked for ways to involve us in whatever they were doing."
Gary Glover, president at Puritan Cleaners, has been instrumental in Moncrieff's development in the business. "I'm thankful Gary has always given room to grow and try new things when it comes to marketing," she said. "He has always been an encouraging coach; win or lose, we learn and move on."
Another key figure is Moncrieff's friend and mentor, Bob Weirup, who "taught me to keep the main thing, the main thing."
The Early Years: Born in South Carolina, Moncrieff's family relocated to Virginia when she was eighteen months old. She has a strong affinity for each state and considers both places home. "Some of my best memories were sunkissed summer days spent with my family going on adventures together either at home or 'back home' in South Carolina," she fondly recalled. "My parents always made life exciting!"
When she was in the first grade, Moncrieff remembers working trade shows with her dad when he was with a Fortune 500 company before switching his career to garment care. "I'd wear my best Easter dress, memorize the flyers and mingle with the best of them," said Moncrieff. "All these years later, not much has changed."
Soaking It In: "I've always been outgoing and enjoyed learning," said Moncrieff of her formative years. "I loved to read from a very early age and read any book I could get my hands on, especially British literature."
Whenever she had a question about something, her mom methodically sent her to the encyclopedias and commanded her to look it up. "That pattern started a lifelong love of learning that has benefited every area of my life," said Moncrieff.
After being home schooled until age 16, she earned a degree in business at John Tyler Community College.
Learning the Business: Moncrieff began her career in garment care when she joined the Puritan Cleaners family in 2007 as a customer service representative at Staples Mill. She diligently applied herself to learning various facets of the business and took every available opportunity to advance and grow. Her service at Puritan Cleaners has taken on different forms over the years. In the beginning, Moncrieff filled in at stores during management changes and floated when hiring was tight. Since then, she has served the Puritan Cleaners team and clients as a claims manager, trainer, hiring manager, office support and district mentor.
Management Philosophy: A spirit of inclusion, taking the time to listen and willingness to bring someone along for the ride governs Moncrieff's leadership style. "Some will, some won't and that's okay," Moncrieff said. "We give everyone the opportunity to come along with us; as leaders, we're here to build people up whether or not they stay with us."
Advice: "Never underestimate the power of including your team in projects or meetings throughout the week," said Moncrieff. "You'll feel connected to your teammates and although not every team member will be a career employee or will be engaged, some will and you might be surprised who catches the vision."
Cause Marketing: Considered a valuable tool in her marketing arsenal, Moncrieff admits that today's consumers are savvy and can smell the slightest tinge of disingenuous a mile away. "People don't just want to know you are doing XYZ; they want to feel that you mean it," said Moncrieff. "Once they know you are serious, they'll want to be a part of what you're doing and you'll be best friends for life."
Gratification: Puritan Cleaners supports the Salvation Army with their annual Coats for Kids campaign and, over the years, has collected over half a million coats. One of Moncrieff's proudest moments of her career was cutting the velvet ribbon for the grand opening of the Salvation Army Christmas Center in the middle of a snowstorm. "It was the first year I led our Coats for Kids campaign and a beautifully staged storefront of thousands of clean coats were ready to be given to thousands of families in need, thanks to the hard work of our team and the generosity of our community," she said. "That year, the freezing temperatures, ice on the ground and families I met will be forever in my heart."
Gratitude: When Moncrieff reflects on all of the excellent work that Puritan Cleaners has done, she is markedly grateful for her associates, store managers, production team and colleagues who are instrumental in cementing the Puritan brand in the industry and community. "The culture here is so well established thanks to those that have come before me," said a thankful Moncrieff. "As the community relations leader, I can cross all the t's, dot all the i's and make all the connections, but if I don't have the support of our team and they don't catch the vision, then it all means nothing."
Industry Forecast: "I see classics like same-day dry cleaning service, alterations, home delivery, along with wash-dry-fold as things that become more popular with consumers in our industry," said Moncrieff. "People will see dry cleaners more and more as the professional source for stain removal, care and as the ultimate in garment care convenience."
In marketing, Moncrieff envisions the value of what she labels an "omnichannel strategy" in the years ahead. She said that email, television, radio, print, OTT, digital, social media and web chat are tools that we will continue to use, but in different ratios. "Where our clients spend their time-consuming information will fluctuate, so we are ready. Social media platforms continue to multiply, as do search engines and the places we can engage with clients. We continue to watch each and use what makes sense for us. At the end of the day, marketing is about engagement and it should feel natural."
Defining Success: On a professional level, Moncrieff values quality relationships. "When you put in the work, surround yourself with good people and do good for others, even when it's hard…especially when it's hard, the rest will follow," said a pensive Moncrieff. "At the end of the day, people are the irreplaceable beating heart of everything we do. What are we without our team, our partners in business and our clients?"
A devout Christian, Moncrieff faithfully attends church at Calvary Chapel of Richmond. "Personally, my faith and family are at the heart of everything I do," she exclaimed. A higher dimension and more profound level of success in Moncrieff's personal life supercedes all other aspirations and worldly achievements. "Raising my children to love others and love Jesus is the ultimate success."
Clocked Out: When she is not busy hustling and helping to enlarge the Puritan Cleaners empire, Moncrieff enjoys music, playing the guitar, gardening and anything that will get her outdoors.
Personal: Moncrieff turns 32 next month and is married to Sean. "He's in the IT world and works for the government; he's an Army contractor and a really smart guy," she boasted of her husband of nine years. "Though I like having my own personal IT guy at home, he's the love of my life and I would have married him the first day I saw him."
The couple makes their home on a 3-acre property in Powhatan and loves spending time together in their garden and orchard. They have two sons who will celebrate birthdays in August. Evan will be 5 and Ian will be 2.
John Leano works for BRYAN'S Cleaners & Laundry in Pasadena, California. He responds to email: Leano@BryansCleaners.com