John H. Kelleher was born on December 28th, 1937 in Newark, New Jersey. He passed on December 27th, 2021
John had a lifelong career in the laundry and dry cleaning industry. In 1958 he started his career repairing washers in laundromats for Cosmopolitan Equipment in Flatbush, New York.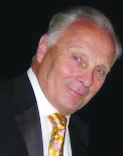 In 1962 he moved on to work for a pressing company called Forse, which is now known as Forenta. He started as a repairman, later was an installerand eventually became a demonstrator of pressing and finishing at trade shows. In 1964 Forenta moved him into a sales position. In 1966 Forenta relocated him out to California to be the West Coast sales rep. Soon thereafter, his territory expanded to nearly the whole nation and Canada.

John received many sales awards with Forenta. However, due to the introduction of permanent press in 1970, the dry cleaning industry declined and Forenta had to let their best salesman go. With three little children, and no one hiring because of the decline in the industry, John decided to bet on himself. He rented a little warehouse in Southern California and opened his own business. Against all odds, he retired decades later as one of the most successful and influential figures in dry cleaning history.

John imported the very first dry cleaning machine from Italy. When the industry was set against the idea of an Italian machine, John — in typical fashion — committed to his vision and forged on. Obstacles did not mean much to John H. Kelleher. Today, Italian machines are the most widely used in the United States. With little formal education, John showed the skill of an engineer and pioneered several ground breaking cleaning technologies. His influence lives on in plants all over the world.

John was an avid supporter of the dry cleaning industry, always participating in trade associations. His involvement in trade shows, and flair for the bravado in his display designs, are legendary. He endlessly donated his time and talent to all who needed it.

Even as his health declined, John loved helping people over the phone fix their equipment. He always gave everyone his home number and shared his wisdom up until his last days.

On the personal side, John loved dogs, especially his late Schnoodle Kobe. He was a die-hard Laker fan, loved his boat and fishingand lived to decorate his house for Christmas. Christmas was the time of his life. For many years he dressed every night of the Season as Santa and gave out candy canes in front of his home on Naples Island. He won many Christmas decorating contests.

John is survived by his beloved wife, Diane, his dog Margo along with four children, seven grandchildren one great grandson.