Kelleher Equipment Supply was host for the Southern California Cleaners Association meeting held on May 15th at their facility in Long Beach, California.
For additional information or to make reservations for the next SCCA Seminar/meeting in July 2016 contact SCCA, phone (714) 494 – 9350 or visit their web site: SCCA.
AL Wilson Demonstration:
Jeff Schwarz and Chris Patton of A. L. Wilson demonstrated the different techniques of spot removal step-by-step. One method of removing oil and perspiration stains is to put the garment in a white 100% cotton pillowcase. This method enables the cotton to absorb the stain.
Jeff and Chris went over the eighteen tips for stain removal as well as describing what each one of their products are used for. They added that you can get 80% of ALL stains out, 15% questionable and 5% will not come out. Added that hydrogen peroxide is the best bleach for blood, perspiration or any yellow stain.
Chris did a demonstration on red wine stain removal and the steps necessary to remove this stain.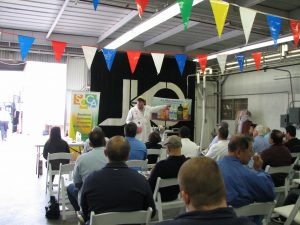 Parker Boiler Demonstration:
Mike Leming introduced the newest Parker Boiler Vertical 100 Series. The boiler comes in 10, 15, 20 and 23 HP gas fired and is 7% more efficient than your standard boiler. It has 6" instead of 10"vent and only needs 12" rear clearance and can go through a 35" door. It has heavy duty boiler tubes built for long-term service life. There is less heat loss due to water wall sealed combustion chamber design.
Mike went on to discuss the different terms used for boilers as well as proper boiler maintenance. He also went over how you should look for signs of corrosion, pitting scale and sludge build up and about pressure vessel inspection points.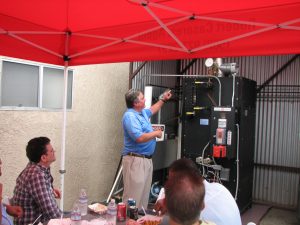 R.R. Street & Co., Inc.
Dan Pollock talked about different services that DLI offers, their library as well as stain testing availability. He described step-by-step cleaning and the importance of solvent level as well as water level. He stated that there are four steps to take to get better cleaning results:
1. Temperature
2. Chemical action (solvent level)
3. Mechanical action
4. Time (needed for chemical to work). Can reduce time by mechanical action
Posters showing the success of cleaning garments with his steps accompanied Dan's demonstration.