Fabritec International, a Kentucky manufacturer of professional drycleaning, wetcleaning, laundry, spotting and restoration products under the Sanitone, Fabritec and Stamford names, announced the addition of Amy (Jordan) Bartlett to its team. Fabritec is excited to welcome Amy as a Chemist in Research and Development.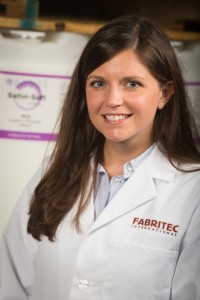 Amy earned a bachelor's degree in Chemistry from Miami University in 2006. Her work experience includes Quality Control, Research and Project Management in the Pharmaceutical industry. She is eager to learn the fabricare industry, from the manufacturing and customer service to the processing of the Fabritec drycleaning system.
Al Jordan began Fabritec in 1977 and John Jordan was appointed President in 1990. Amy looks forward to carrying on the family business.