WHO? Ariana Basseri
WHERE? Los Angeles, California
WHAT? In addition to being the head marketing expert and dry cleaning heiress of Steamer Cleaners, Ariana Basseri is also a comedian, writer, and entertainment personality. Self-proclaimed and self-appointed as "a leader in the cleaning industry, the hottest member of DLI and very humble," Basseri works closely with her parents and garment care industry legends, Nicole and Shahrokh Basseri. "My parents met at a dry cleaner, so stain removal is in my gorgeous genes…and jeans," stated Basseri.
She has pushed the family business to take every opportunity to grow and elevate. Steamer Cleaners boasts of their contactless trunk service, a fully automated Metalprogetti conveyor and bagging system, plus GreenEarth Cleaning. "I am proud to be one of the daughters of such an impressive, wrinkle-free empire," said Basseri. "We love to use that gentle, non-toxic cleaning solvent to kindly clean your clothes and keep that L.A. skin flawless."
THE ONE THING I TRY TO DO ON A DAILY BASIS IS…
Yoga. What an entire life changer.
MY MORNING ROUTINE IS…
I take a lot of herbal vitamins and also Prozac, and also thyroid medicine.
MY FAVORITE QUOTE IS…
Dolly Parton: "Find out who you are and do it on purpose."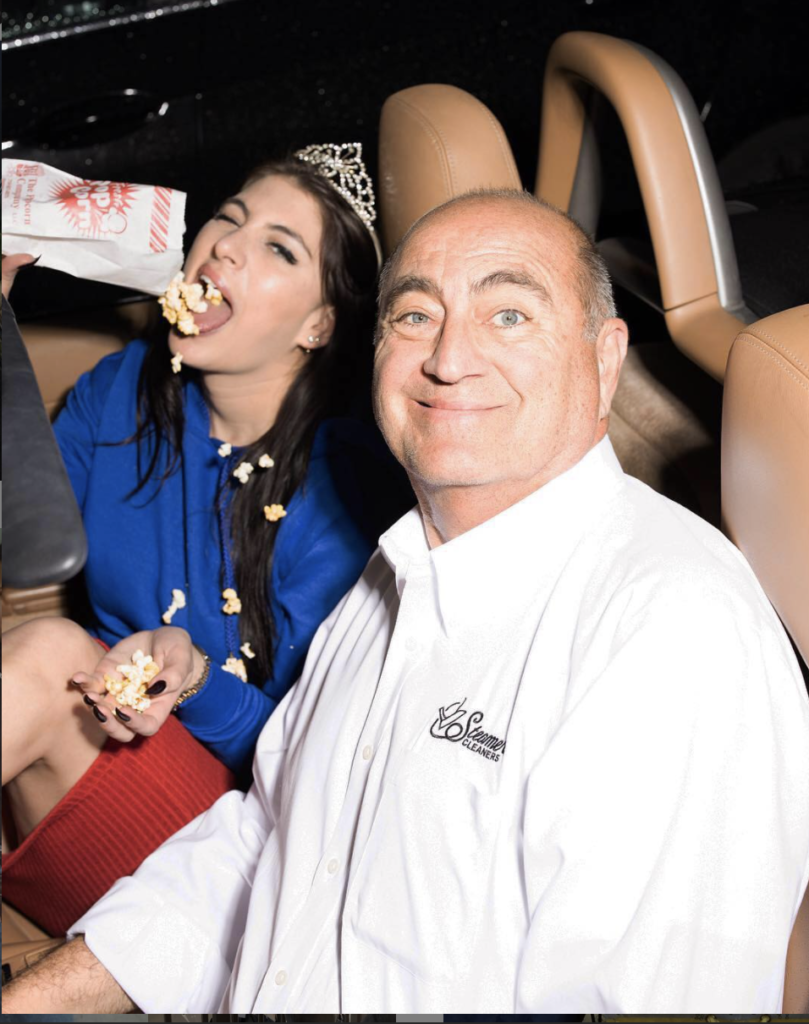 I AM CURRENTLY READING…
Nine Perfect Strangers (Liane Moriarty), The Bell Jar (Sylvia Plath), Untamed (Glennon Doyle), Everything is F*cked (Mark Manson), Blink (Malcolm Gladwell), and Red Queen (Victoria Aveyard). This pandemic has made me an incessant reader.
THE BOOK THAT HAS HAD THE BIGGEST IMPACT ON MY LIFE IS…
The Subtle Art of Not Giving a F*ck by Mark Manson. It's about leading with your strengths and then just knowing that everything is not as serious as you think it is.
MY DEFINITION OF SUCCESS IS…
A life balanced.
THE BEST MOVIE I HAVE EVER SEEN IS…
Miss Congeniality. It's empowering, fun and female. I love that she has these two different identities. She can be this cool secret agent and also glamorous and presentable. I am the Miss Congeniality of dry cleaning.
I AVOID DISTRACTIONS BY…
Giving myself VERY small and attainable tasks like "ok, I'll clean my room until my pho gets here because that's 12 minutes away, and I can handle that."
I OVERCOME ADVERSITY BY…
Meditation, yoga, therapy, psychiatrist, acupuncture, word vomiting it out on the paper and then accepting that some days are just pure trash, and that's ok!
THE MOST IMPORTANT LIFE LESSON I HAVE LEARNED IS…
Your thoughts control your feelings, your feelings control your actions, your actions control your results. You now owe me $200.
THE BEST CAREER ADVICE I EVER RECEIVED IS…
You have to grow and change with any industry you're in, including dry cleaning, which is all I want to talk about, please. Only talk to me about stain removal. Thanks.
MY NUMBER ONE SMARTPHONE APP IS…
Instagram, because I love sharing my life in story format.
WHEN I RELAX, I LIKE TO…
Drink red wine in my bathtub.
IN 5 YEARS I HOPE TO BE…
A homeowner because I am the only person you've ever interviewed who is not one.
I AM WORKING TOWARD THAT 5-YEAR GOAL BY…
Expanding the Steamer clientele and working on selling television shows based on our Steamer Cleaners empire. Also hoping my fiance just buys us a house. That would make this question easier but not as empowering. Nevermind, I'll succeed at dry cleaning and then buy a house.
I AM MOST AT PEACE WHEN…
I've done my journal, Duolingo Spanish practice, and am in bed watching Gilmore Girls.
MY SOURCE OF INSPIRATION IS…
My parents, which is true but also good to say because they're my employers and, as I mentioned, I hope to one day buy a house.
I WORK TO IMPROVE MYSELF BY…
Doing daily yoga, journaling, breath work therapy, Prozac, an entire regimen of day and night skincare routines, bringing my clothes to Steamer Cleaners, and not eating dairy or gluten because my body truly hates fun foods.
THE BEST LIFE HACK I KNOW IS…
Comedy is tragedy plus timing. I let myself laugh at every struggle and enjoy the garbage times as much as the good ones.
I NEVER LEAVE THE HOUSE WITHOUT…
My phone, wallet, keys, mask, as much cash as I own (maybe $35), and a snack item because I get food anxiety.
A PODCAST I RECOMMEND IS…
I'll go on anyone's podcast and listen to no one's.
SOMETHING EVERYONE SHOULD TRY AT LEAST ONCE IS…
Intentionally having, and enjoying, alone time. This pandemic has been a real growth opportunity for me to enjoy my own company. This is difficult and takes practice.
I HANDLE DISAPPOINTMENT BY…
Laughing about it and knowing this loss is only making room for a better win later.
WHEN I WAS YOUNGER I WANTED TO BE A…
Dentist, and it's very hard to say if that was something I actually wanted or something my cleaning background just kind of led to? Anyway, too much school; too gross of teeth. No thanks.
A GO-TO BAND OR MUSICAL ARTIST ON MY PLAYLIST IS…
Regina Spektor. I discovered Regina Spektor in 7th grade, and I never stopped being a manic pixie dream girl since.
MY "SUPERPOWER" IS…
Confidence. Faking it 'til you make it is 80% of any battle. That's showbiz, baby. The fact that I'm being interviewed is peak industry confidence.
John Leano works for BRYAN'S Cleaners & Laundry in Pasadena, California. You may contact him via email: Leano@BryansCleaners.com.