WHO? Daniel Kim
WHERE? 94-321 Leonui St. #A, Waipahu, HI 96797
The leeward side on the Island of Oahu, Hawaii about 20 minutes from Honolulu.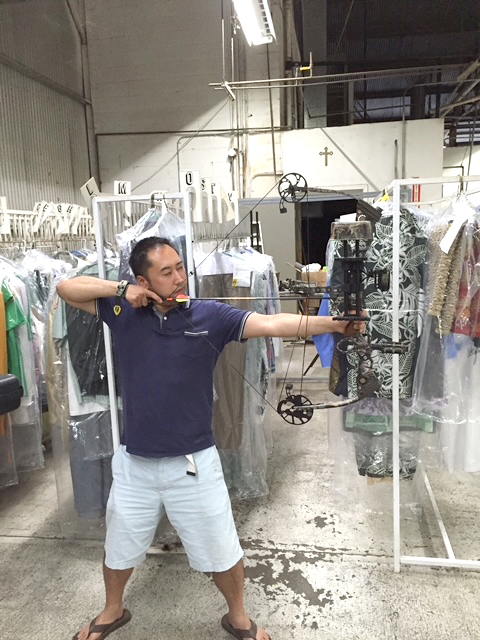 WHAT? Over the years, Aloha Dry Cleaners and Laundry has established itself as a full-service, professional garment care company with an ever growing list of new accounts and highly satisfied customers. Daniel Kim is the CEO as well as one of the owners of the company with two other partners, Jason Nam and Kevin Park.
THE ONE THING I TRY TO DO ON A DAILY BASIS IS…
Ensure that my team has what they need to do their jobs.
MY FAVORITE QUOTE IS…
"Well, I'm the best there is. Plain and simple, when I wake up in the morning I piss excellence." – Ricky Bobby (Will Ferrell)
I AM CURRENTLY READING…
Ben Hogan's Five Lessons: The Modern Fundamentals in Golf
THE BOOK THAT HAS HAD THE BIGGEST IMPACT ON MY LIFE IS…
Frankenstein by Mary Shelley
MY DEFINITION OF SUCCESS IS…
Living a purposeful life and being impactful towards the people around me.
THE BEST MOVIE I HAVE EVER SEEN IS…
Groundhog Day
MY MORNING ROUTINE IS…
Wake up around 4 a.m., work out, at the office by 7:30 a.m.
I AVOID DISTRACTIONS BY…
Setting aside time usually very early in the morning to do my work that requires focus.
I OVERCOME ADVERSITY BY…
Assessing the challenge, understanding my limitations and calculating the resources available to address the challenges. Also realize that with adversity there is always opportunity.
THE MOST IMPORTANT LIFE LESSON I HAVE LEARNED IS…
Always stay humble and hungry.
THE BEST CAREER ADVICE I EVER RECEIVED IS…
Educate the customer. By clearly and openly sharing your values and expertise, the customer will be better informed of your industry and have expectations that are realistic.
MY NUMBER ONE SMARTPHONE APP IS…
Genius Scan
WHEN I RELAX I LIKE TO…
Golf or hike.
IN 5 YEARS I HOPE TO BE…
A leader in our industry and be competitive with the larger companies that have wiped off small business from our islands.
I AM WORKING TOWARD THAT 5-YEAR GOAL BY…
Building the business with new accounts as well as building the brands with aggressive marketing.
I AM MOST AT PEACE WHEN…
My wife and young child are happy.
MY SOURCE OF INSPIRATION IS…
My family.
I WORK TO IMPROVE MYSELF BY…
Measuring my progress in various goals both personally and professionally. It is important for me to share those goals with people that I trust and can objectively evaluate my progress.
THE BEST LIFE-HACK I KNOW IS…
Minimalism. If I haven't seen it, touched it, heard it or thought about it for six months and I come across it, I ask myself if it is necessary or meaningful and if not I get rid of it.
I NEVER LEAVE THE HOUSE WITHOUT…
My keys.
A PODCAST I RECOMMEND IS…
Make me Smart with Kai Ryssdal
SOMETHING EVERYONE SHOULD TRY AT LEAST ONCE IS…
Work at a shelter feeding the hungry.
I HANDLE DISAPPOINTMENT BY…
After a moment to cry like a big baby, I assess and move on or try to understand why things didn't go the way that I expected and learn from it.
WHEN I WAS YOUNGER I WANTED TO BE…
An actor.
A GO-TO BAND OR MUSICAL ARTIST ON MY PLAYLIST IS…
Sam Cooke
MY "SUPERPOWER" IS…
Cooking really delicious food for large amounts of people with limited means and resources.