Pair of 35-year-old machines earn top honors and new machines in UniMac promo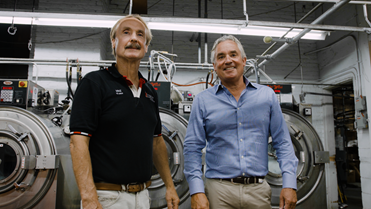 UniMac's quest to find the oldest model of their ultra-reliable washers still in service has ended at Zengeler Cleaners in Northbrook, IL. The legendary cleaner won the contest with a pair of 35-year-old washer-extractors that run six days a week.

"As expected, our Longevity Contest delivered a plethora of machines still in service from a variety of vintages," said Steve Bowie, General Manager of the On-Premises Laundry Segment for Alliance Laundry Systems. "In the end, Zengeler Cleaners stood alone with their pair of UniMac machines boasting an impressive run."

For fifth generation owner, Tom Zengeler, the decision to go with UniMac some 35 years ago was more than a purchase, it was an investment in a foundational part of the business. "One thing is certain: we simply can't have a machine go down," Tom said. "The UniMac duo has become that important to our business."

Zengeler Cleaners has a rich history dating back to 1857, having survived and thrived through two World Wars and the Great Chicago Fire. The two 65-pound washer-extractors are critical players for the business, coming online each day at 5 am and running through 3 pm.

Reliable equipment and loyal employees are two keys to Zengeler Cleaners' long-term success. "Another reason for our success is having thirty employees who each have more than 20 years of service," continued Tom. "We take great care of each other and great care of our customers. Our professional team takes great pride in helping customers look their best, which in turn allows us to guarantee their satisfaction."

As winners of the contest, Zengeler Cleaners will receive new UniMac equipment – a 65-pound capacity washer-extractor and large capacity tumble dryer to help them increase capacity at their production plant.

With new machines on the way, does that mean the 35-year-old models will get a well-deserved retirement? "No way … that's just not going to happen," Tom said. "Our UniMac machines are way too important to the success of our business. My brother Mike, who services the UniMacs to assure they're up and running every day, wouldn't even let me think about retiring them. He knows how important they are to our success!"

Zengeler Cleaners is America's oldest and largest family-run dry cleaner, founded by A.W. Zengeler in 1857. The company has grown to eight (8) stores in northern Illinois, located in Deerfield, Hubbard Woods, Northbrook, Northfield, Winnetka, Long Grove and two stores in Libertyville.