Once upon a time, I gave my autograph to legendary basketball coach John Wooden. True story. If you've never heard of John Wooden, Competitive Greatness visit his official website at www.CoachWooden.com to learn more. For the sake of time and space, we will not use this forum to rehash such a voluminous individual's storied career, accomplishments and resumé. We will let the internet do the heavy lifting on this one.

I was a big fan of Coach Wooden during his record-setting run of national championships while coaching men's college basketball at UCLA. I have also read his books on leadership and teamwork. One of my customers at BRYAN'S Cleaners & Laundry is a Bruin alumnus and athletic supporter. Excuse me. The more appropriate term is a booster. He learned I was a Coach Wooden fanboy. The kind customer arranged for me to use his season tickets to attend a UCLA Bruins basketball game at Pauley Pavilion on Thursday, February 27, 1997. At the time, my customer's seats were just a few feet from Coach Wooden's, directly behind the UCLA bench. During halftime, I approached Coach Wooden and introduced myself. We shook hands, and I politely asked him to autograph my program and pose for a photograph. He was most accommodating and gracious.

Fast forward several years later down the road. Coach Wooden had written a new book and was on tour. He was scheduled to appear at Vroman's Bookstore in Pasadena for a speaking engagement and book signing to promote his latest literary offering. I saw this as my opportunity to pay him back. I enlarged the picture we took together, wrote on it, "Dear Coach Wooden, thank you for the Kodak moment of a lifetime," and signed my name. I framed it and presented it to him during the meet and greet. Coach Wooden got a chuckle from this nobody giving him an unsolicited autograph. He didn't ask for it, but this is my claim to fame. I gave legendary basketball coach John Wooden my autograph (mic drop)!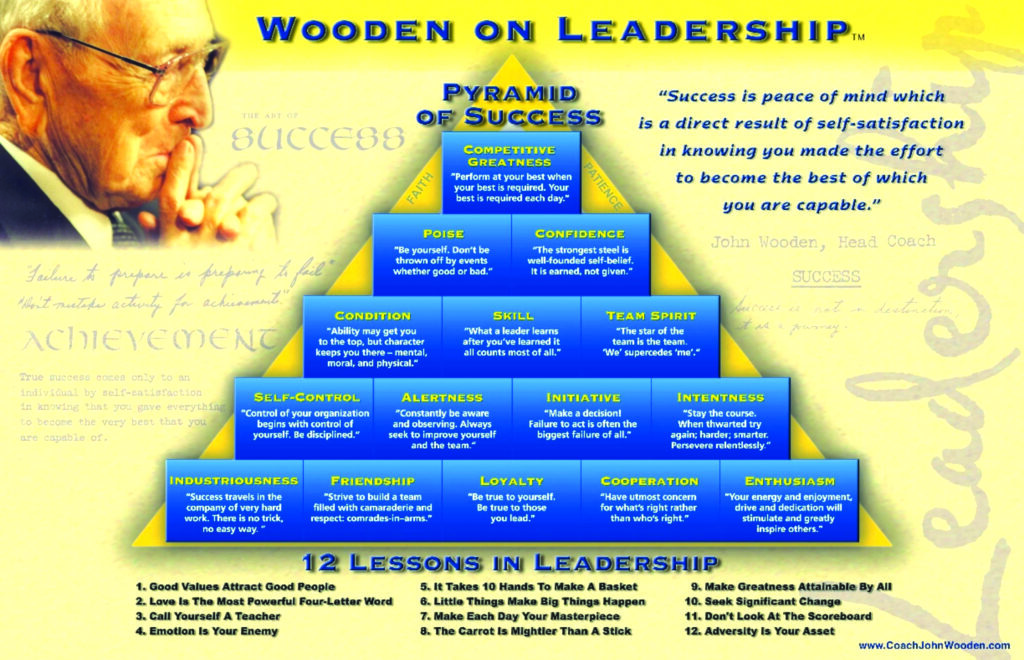 One of the many things Coach Wooden is famous for is his Pyramid of Success (go to www.CoachWooden.com for a free download). The Pyramid of Success is used by coaches, managers, supervisors, CEOs and various leaders to motivate and inspire the teams they lead. The Pyramid of Success has fifteen building blocks for success. While all fifteen are essential to make the pyramid whole, the block that has my current attention is the one at the top: Competitive Greatness — "Perform at your best when your best is required. Your best is required each day."

In the United States, November is heavy-laden with team sports. Major League Baseball is winding down and will crown a new World Series Champion. College football and the NFL are in full swing as we head into the holiday season. NBA and college basketball are at the beginning of their championship aspirations. So much individual and corporate preparation, training and practice go into the successful outcome for each team competing for the prize.
I wholeheartedly affirm Coach Wooden's theme of Competitive Greatness. I long for the teams I have a rooting interest in to embrace and live by this principle.

Regarding our workplaces in the garment care industry, we too can implement Competitive Greatness. Competitive Greatness applies to every team member of the company from the top to the bottom and every position in between; whether you're the president, CEO, manager, owner/operator, customer service representative, production/finishing crew, route valet driver/outside sales, or administrative person. Performing at our best when our best is required is one of those items we can add to our list of "best practices." Furthermore, being mindful that our best is needed daily puts us on the path to a winning culture and championship mind-set.
John Leano works for BRYAN'S Cleaners & Laundry in Pasadena, California. He responds to email: Leano@BryansCleaners.com